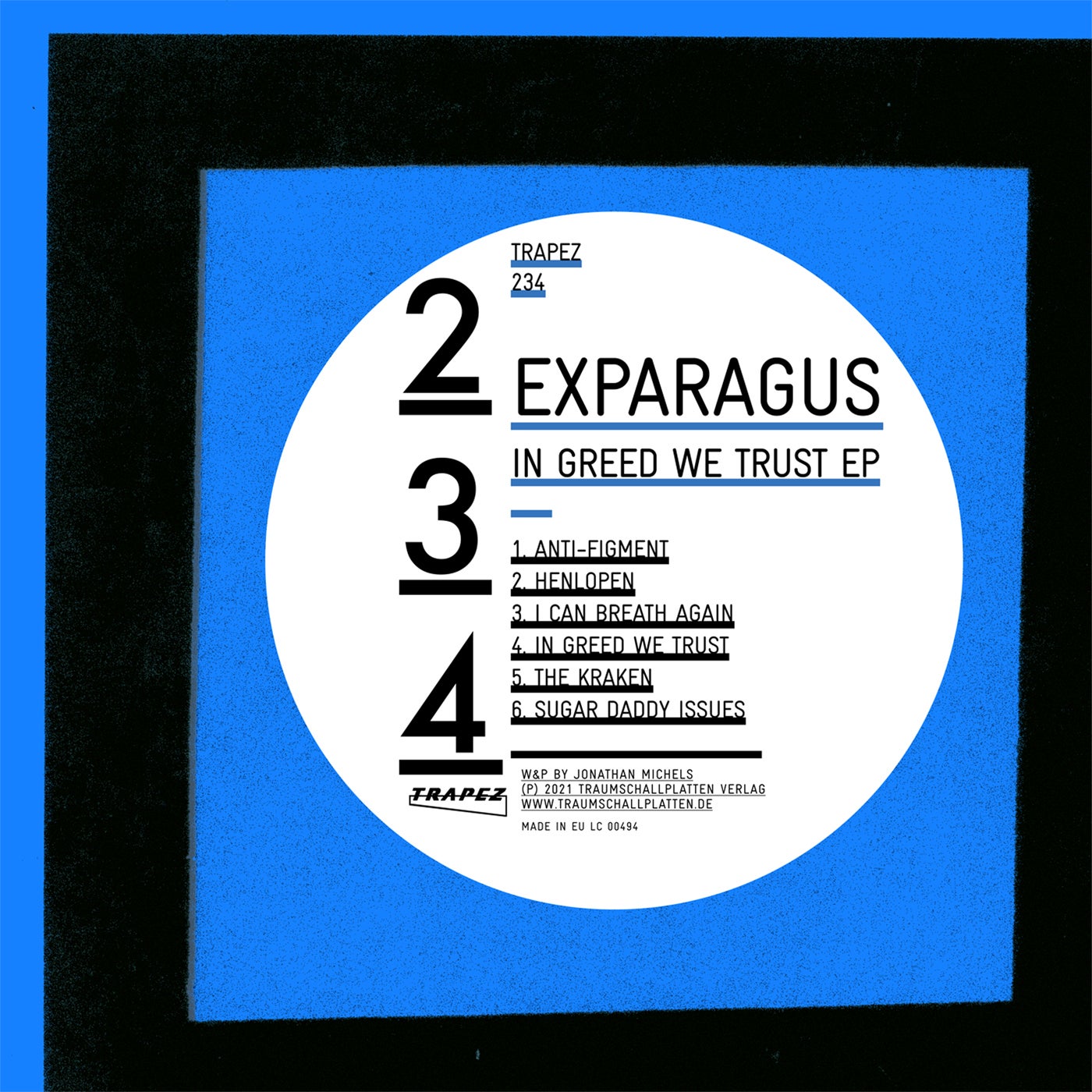 RELEASE: In Greed We Trust EP
ARTIST(S): Exparagus
REMIXERS:
LABEL: Trapez | TRAPEZ234
GENRE: LOSSLESS, Techno
RELEASED: 2021-03-19
AVAILABLE FORMAT: 864Kbps/FLAC
DOWNLOAD SIZE: 281.92 MB
TOTAL TRACKS 6
Exparagus – Anti-Figment (08:28)

key, bpm128

Exparagus – Henlopen (06:07)

key, bpm126

Exparagus – I Can Breath Again (06:52)

key, bpm126

Exparagus – In Greed We Trust (07:49)

key, bpm127

Exparagus – Sugar Daddy Issues (06:46)

key, bpm128

Exparagus – The Kraken (07:23)

key, bpm126
Total Playtime: 00:43:25 min
After an almost 3 year break we are releasing the second EP by Exparagus after his "Exemplar EP in 2018.
Jon Michels has been releasing on US labels under the moniker of Exparagus but he stays very much under the radar when it comes to internet social networking and promoting himself, instead it is his music which speaks for itself. His style is nothing less than impressive.His precision in programming allows him to create a superb techno funk which is his own invention.
So we were excited to hear his new EP and let us say this: it is madness on the highest level again.
The opening track "Anti-Figment" shows his skill to execute minimalism into techno with brilliance. No bullshit, no decor… the track is plain dance floor craziness.
The second track "Henlopen" is an off kilter techno track that will get you in the mood for celebration. Exparagus has the balls to pull off an arrangement where a single sound at times is just enough of what you need and what you get.
"I Can Breathe Again is a great track in the way that it takes turns and how it uses old school repetition in vocal and how it blends in with new school ideas. This track is full of surprises and when the clubs open again it will be one of the trax that you will definitely want to play.
"In Greed We Trust uses teaser like chords that do not reveal too much but intensify the the drama of the track of which you do not know in which direction it will lead you. Jon Michels aka Exparagus is a great composer, his rhythmic quality is overwhelming and the euphoric passages and the positiveness is something which makes this track so great.
"The Kraken features to some degree a step by step build up which sees its greatest moments around half-time when a huge synth sweep overtakes the track for a short but intense moment. Killer.
The last track of the 6-track EP is "Sugar Daddy Issues is true warehouse style, we could image to hear in Chicago on a night hosting D.J. Funk, Paul Johnson and D.J. Deeon.//