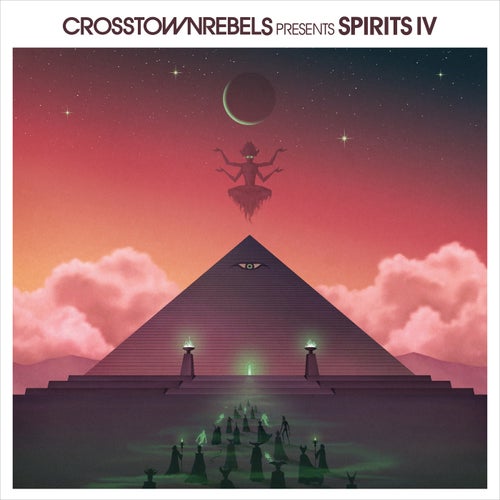 RELEASE: Crosstown Rebels present SPIRITS IV
ARTIST(S): Ali Kuru, Ilhan Ersahin, Andrea Oliva, Artur Nikolaev, DJ Linus, Francesca Lombardo, Lubelski, Xkylar, Luke Brancaccio, Cypherpunx, Made By Pete, Martin Badder, Pablo:Rita, Matador, Murr, Rosina, Pete Tong, Alex Kennon
REMIXERS:
LABEL: Crosstown Rebels | CRMLP045
GENRE: LOSSLESS, Melodic House & Techno
RELEASED: 2021-02-26
AVAILABLE FORMAT: 887Kbps/FLAC
DOWNLOAD SIZE: 531.41 MB
TOTAL TRACKS 12
Pete Tong, Alex Kennon – Apache (04:11)

key, bpm123

Francesca Lombardo – Freak On Sea (07:58)

key, bpm126

Martin Badder, Pablo:Rita – Phase (06:08)

key, bpm126

Andrea Oliva – Rawman (05:52)

key, bpm126

Artur Nikolaev – Alma (11:32)

key, bpm128

Lubelski, Xkylar – Passion Fruits feat. Xkylar (07:26)

key, bpm126

Luke Brancaccio, Cypherpunx – I See Colour (06:22)

key, bpm127

Made By Pete – Harar (06:41)

key, bpm120

Ali Kuru, Ilhan Ersahin – Eplos (06:25)

key, bpm120

Murr, Rosina – Super Natural (05:12)

key, bpm156

DJ Linus – Vibes In Space (07:52)

key, bpm120

Matador – Vulture (06:49)

key, bpm124
Total Playtime: 01:22:28 min
Over a period of seventeen years, Damian Lazarus' Crosstown Rebels has evolved into a world-renowned institution, garnering global audiences thanks to a consistent schedule of quality releases. Quintessential to the label's success is the Spirits series, with each edition acting as a musical bastion to showcase the talents of both established and breakthrough artists alike. Now, after much anticipation, the world-renowned compilation will see the light of day once more in the form of Spirits IV, the fourth installment in Spirits' ever-evolving saga. A mixed version of the album will also be included in the release, as a digital bonus track.
Ahead of its release, label-founder Damian Lazarus described the ethos behind the series: "The Spirits series is a very important platform for incredible new club music, often created by up and coming artists. The tracks are tried and tested over a twelve month
period by myself at parties and no stone is left unturned to ensure the absolute quality of every cut on the album. Deep, twisted
and beautiful music for the dancefloors of tomorrow."
That last sentence is epitomised in the compilation's very beginning, as Alex Kennon and Pete Tong's Apache leads with a stirring intensity, gently winding between spirit-healing vocals and resonant kick-hat combos. Echoe-founder Francesca Lombardo showcases her decade-long production experience in Freak On Sea, providing a dubby-leaning club cut that features progressive key changes throughout before Martin Badder and Pablo:Rita's stunning collaboration, Phase, soon arrives in its place, rippling with a gentle lucidity thanks to a subtle four-four bassline and mesmeric singing tones.
ANTS regular Andrea Oliva takes no prisoners on Rawman, serving up a near six-minute cut of pummeling kicks that build into a brooding synth-fuelled crescendo, whilst Russian-born up-and-comer Artur Nikolaev showcases his inherent artistic expression on Alma, creating an eleven-minute voyage into minimal techno's deeper realm with stripped-back bass and hypnotic vocal samples. California's Lubelski teams up with singer-songwriter Xkylar on Passion Fruits, a track that dives between slow-burning percussion and emotion-lead pads, paving the way for I See Colour, the latest collaboration from UK-native Luke Brancaccio and long-standing production partner Cypherpunx. Crosstown Rebels regular Made By Pete makes his Spirits debut next, presenting a tribal-laced mystic number in the form of Harar before Turkey's leading exponent Ali Kuru teams up with Nublu Records founder Ilhan Ersahin on the jazz-dotted, Middle-Eastern inspired Eplos. Super Natural quickens the pace courtesy of enigmatic Barbados-born talent Murr, alongside Rosina's ethereal vocal offerings that enchant as much as they delight, whilst veteran
German producer DJ Linus gives us the penultimate track on Vibes In Space. Indicative of the track's progression, we are taken on a celestial journey through starry-eyed synths and soft whispering hats, leading neatly into the compilation's closing saga in the form of Matador's Vulture, a straight-talking dancefloor cut that showcases the Rukus-founder at his best.