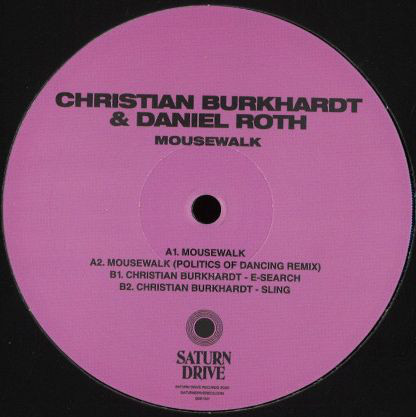 RELEASE: Mousewalk
ARTIST(S): Christian Burkhardt & Daniel Roth
REMIXERS:
LABEL: Saturn Drive | SDR01
GENRE: LOSSLESS, Electronic
RELEASED: 2020
AVAILABLE FORMAT: 1411Kbps/FLAC
DOWNLOAD SIZE: 198.41 MB
TOTAL TRACKS 3
Christian Burkhardt & Daniel Roth – E-Search (06:45)

keyCm, bpm125

Christian Burkhardt & Daniel Roth – Mousewalk (Politics of Dancing Remix) (06:43)

keyEm, bpm125

Christian Burkhardt & Daniel Roth – Mousewalk (06:08)

keyEm, bpm125
Total Playtime: 00:19:36 min
Long time collaborators Christian Burkhardt & Daniel Roth get together once again, as Saturn Drive launches its debut release. The Los Angeles record label has been building up momentum since the beginning of the year, with label head Alain de Saracho introducing the artists during the wait. Lauhaus, Federico Molinari, Ray Okpara, Losoul, and Burkhardt all feature and can be found on the first episode of Saturn Drive's podcast.
A family of artists that have been growing such as this one for over a decade clearly has strong synergy. Record labels have come and gone, the likes of Oslo, Love Letters From Oslo, CB Sessions… As sounds have changed or evolved, so have the platforms but the artists remain. Saturn Drive provides a new HQ for the deep rolling basslines of micro house and the sounds of Frankfurt/Mannheim.
The Christian Burkhardt & Daniel Roth collab takes the title track on 'Mousewalk' EP. Pulsing rhythm drives purposefully from the off, not faltering for a single second throughout. Snippets of melody drift in effortlessly while snappy claps and tapping hats give an unstoppable roll. It's impossible not to roll with it. The atmosphere slowly and subtly builds in the background, a rising synth line continuously collecting energy as the layers before it continues to peel.
Nothing is too much here. Elements come in short form and are playfully manipulated, from the precise switch in percussion to the filtering down of the melodies. This meticulous attention to detail makes for all the right moments. 'Mousewalk' is a minimal, mechanical delight that only gets better with its progression.