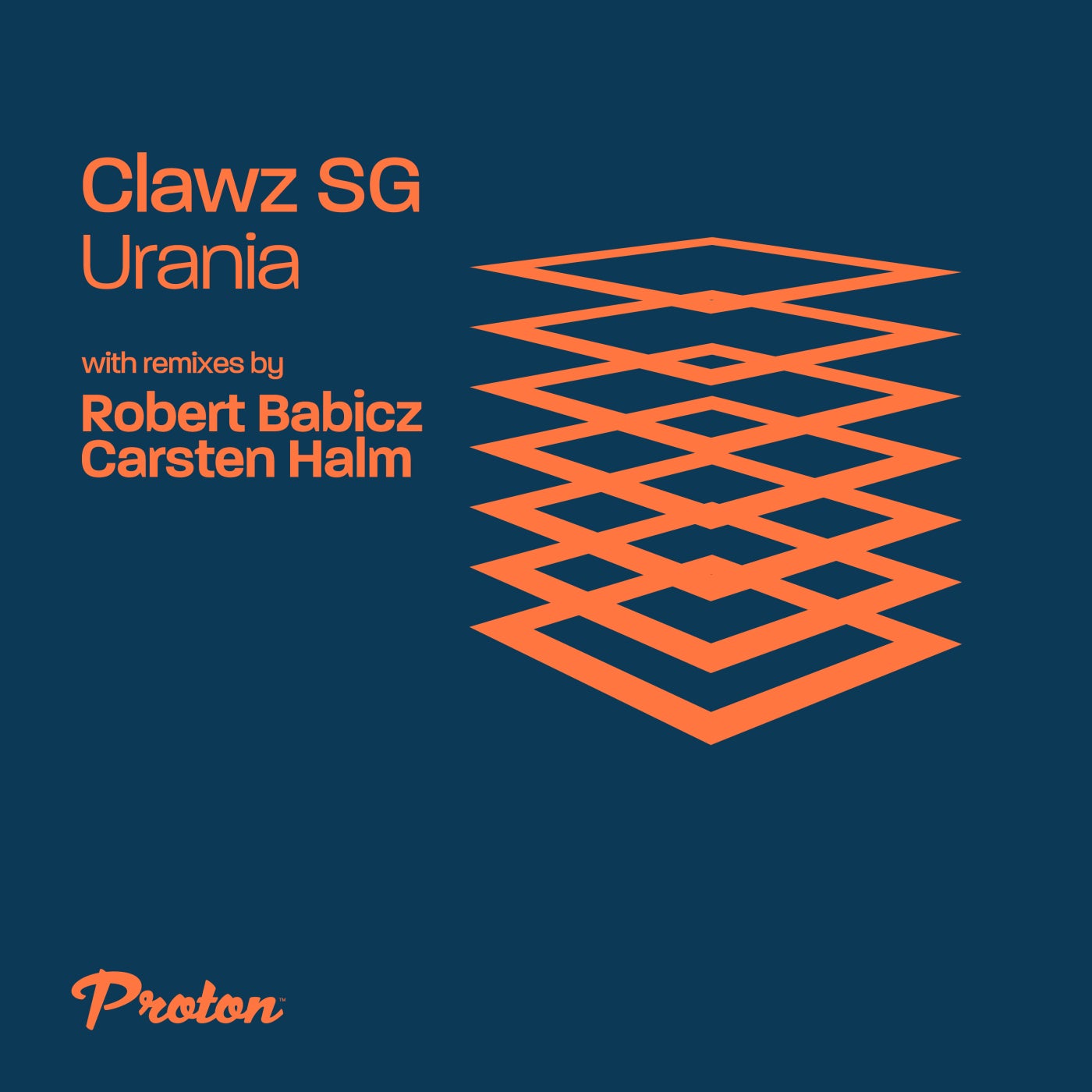 RELEASE: Urania
ARTIST(S): Clawz SG
REMIXERS: Carsten Halm, Robert Babicz
LABEL: Proton Music | PROTON0493
GENRE: Melodic House & Techno
RELEASED:
BITRATE: 320Kbps
DOWNLOAD SIZE: 74.67 MB
TOTAL TRACKS 4
Clawz SG – Urania (07:34)

key, bpm122

Clawz SG – Klothis (08:10)

key, bpm123

Clawz SG – Klothis (Robert Babicz Remix) (09:46)

key, bpm123

Clawz SG – Urania (Carsten Halm Remix) (06:44)

key, bpm125
Total Playtime: 00:32:14 min
Returning after a 2019 debut, Proton Music welcomes back Clawz SG and his spectacular twin-track "Urania" EP including a pair of remixes from iconic German names. A renowned artist with over a century of production credits for the blue chip Steyoyoke imprint, Clawz SG has enjoyed considerable success in the melodic techno genre. Using a studio chock full of analogue synthesisers, the Lille based artist showcased his talents for Proton on his "Domuyo" EP in May 2019 including remixes from Jonas Saalbach and Color Ray. The title track is immediately characterised by pounding techno kick, metronomic percussion and syncopated bassline that oozes emotion as it progresses. A twinkling synth motif sits in the background as a gloriously emotive analogue synth develops across the seven-minute piece. A stripped back breakdown adds intrigue as the second half erupts with a full rendition of the melodic phrase hinted at in the early stages. "Klothis" continues the strong rhythmic framework of its predecessor as whip-cracking clap and snare form the bedrock for a dramatic analogue bassline to power its way forward with glissando style. A chorus of synths wax and wane in mesmerising fashion as kick and percussion drop away to reveal a symphony of emotion and shimmering delays. Hitting its stride once more in the third movement with bass and drums, "Klothis" is a techno tour de force.
An artist requiring no introduction to the underground literati, Robert Babicz has been a name synonymous with high quality techno for over 20 years. A true connoisseur of the underground dance scene, the German artist's music has witnessed over 500 production credits for a 'Who's Who' of leading dance music imprints. Thus, work for Bedrock, Traum and Kompakt tell their own story of Babicz's impeccable attention to detail. A renowned technician with an immaculate ear for the sonic landscape, the Robert Babicz remix is a pounding and powerful reworking of "Klothis" that adds a unique blend of additional production material alongside Clawz SG's original. Characterised by a smooth analogue layer, euphoric pads meld with a hypnotic sixteenth note pattern that provides energy and emotion aplenty. The result is an outstanding reworking that is a genuine joy to behold.
A name synonymous with "stylish underground house and techno", Carsten Halm has carved out a considerable name for himself since a March 2016 debut for Scheef Records. Going on to produce a swathe of original music Halm has seen his work signed to a host of impressive labels that include Monkey League, Traum and Parquet Recordings. The "Dreams" EP for Sonic Union's Lowbit was also a notable highlight in October 2020. Now making his Proton Music debut, the Carsten Halm remix of "Urania" is a commanding techno interpretation that fizzes with analogue energy and drive. Using Clawz SG's original components to joyous effect, pitched and effected elements of the original rise and fall in dizzying fashion as they stutter and pitch to a rousing crescendo at the breakdown. Dropping back into a familiar rhythmic groove in the second half, the searing melodic elements once again build to a frenzied finish.
Directed by Jay Epoch
AandR by James Warren
Mastered by Robert Babicz
Design by Ben Mautner
Text by James Warren//