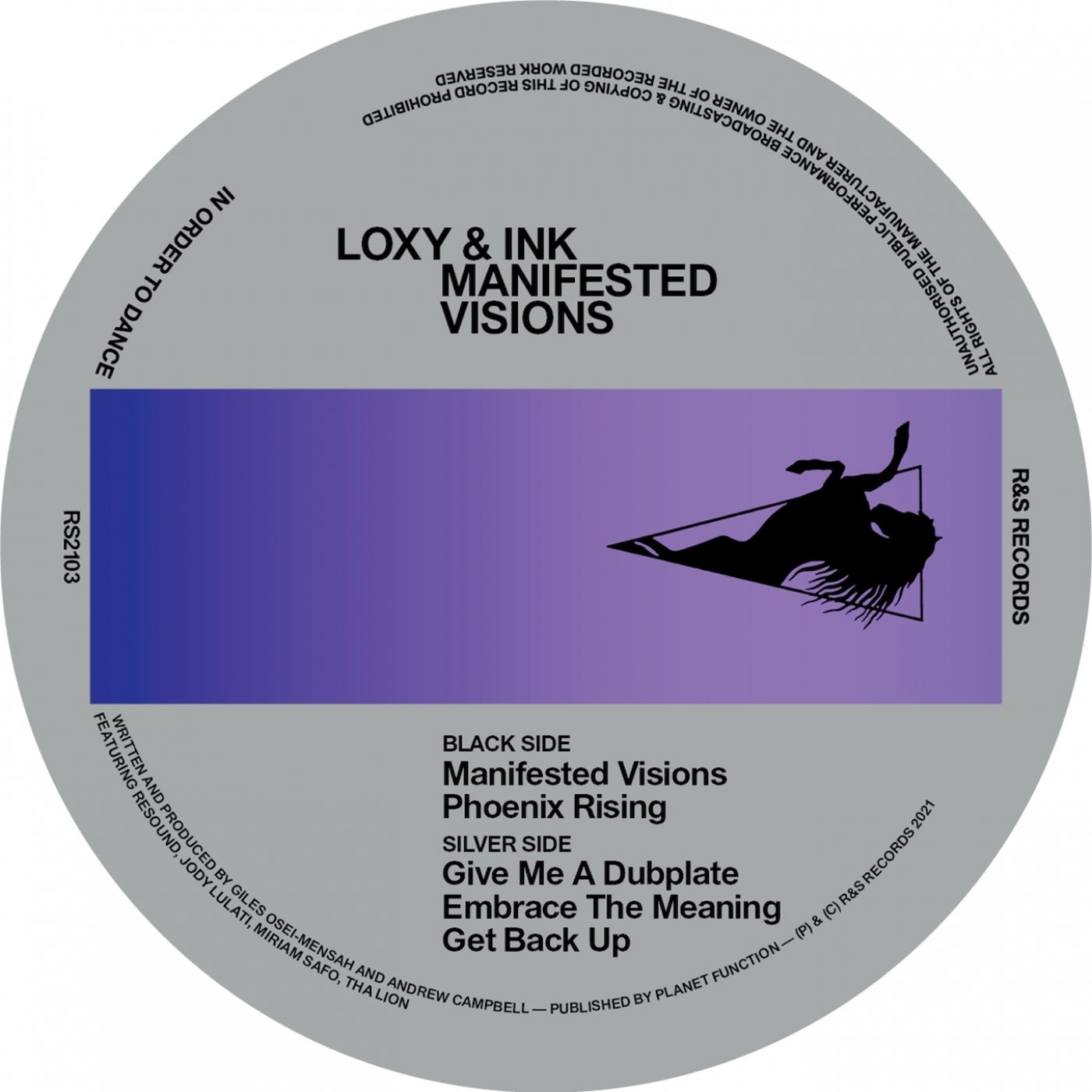 RELEASE: Manifested Visions
ARTIST(S): Ink, Loxy, Resound
REMIXERS:
LABEL: R&S Records | RS2103D
GENRE: LOSSLESS, Trap / Wave
RELEASED: 2021-07-01
AVAILABLE FORMAT: 1018Kbps/LOSSLESS
DOWNLOAD SIZE: 157.19 MB
TOTAL TRACKS 5
Ink, Loxy – Manifested Visions (02:44)

key, bpm101

Ink, Loxy, Resound – Phoenix Rising feat. Jodi Lulati, Miriam Safo (07:13)

key, bpm117

Loxy, Resound – Give Me a Dubplate (05:57)

key, bpm86

Ink – Embrace the Meaning (04:38)

key, bpm85

Ink, Loxy – Get Back Up feat. Tha Lion (03:38)

key, bpm73
Total Playtime: 00:24:10 min
Two titans in UK breakbeat culture, Loxy & Ink were both present at the inception of the birth of UK dance music culture and continue to be torchbearers. One glance at the CV of both artists will show you everything you need to know. They were both residents & recording artists at three incredibly important clubs & record labels: Metalheadz at Blue Note, Speed at Mars Bar and Renegade Hardware at The End. These three clubs and associated labels are important to mention as they innovated, pushed and later came to define drum & bass culture. Loxy and Ink were, in part, responsible for that.
The journey outlined above, the understanding of cultural innovation and the pledge to authenticity & consistency as mentioned leads us to the Manifested Visions EP on R&S Records. A five-track release that traverses genres with ease, a release that speaks to Loxy & Ink's love for collaboration- we're presented with multiple vocal contributions from Tha Lion, Miriam Safo and Loxy & Ink themselves. Finnish producer Resound continues his long-standing production partnership with Loxy on 'Give Me a Dubplate'. Genre wise we're given hip hop, dubwise roots reggae and drum & bass.//