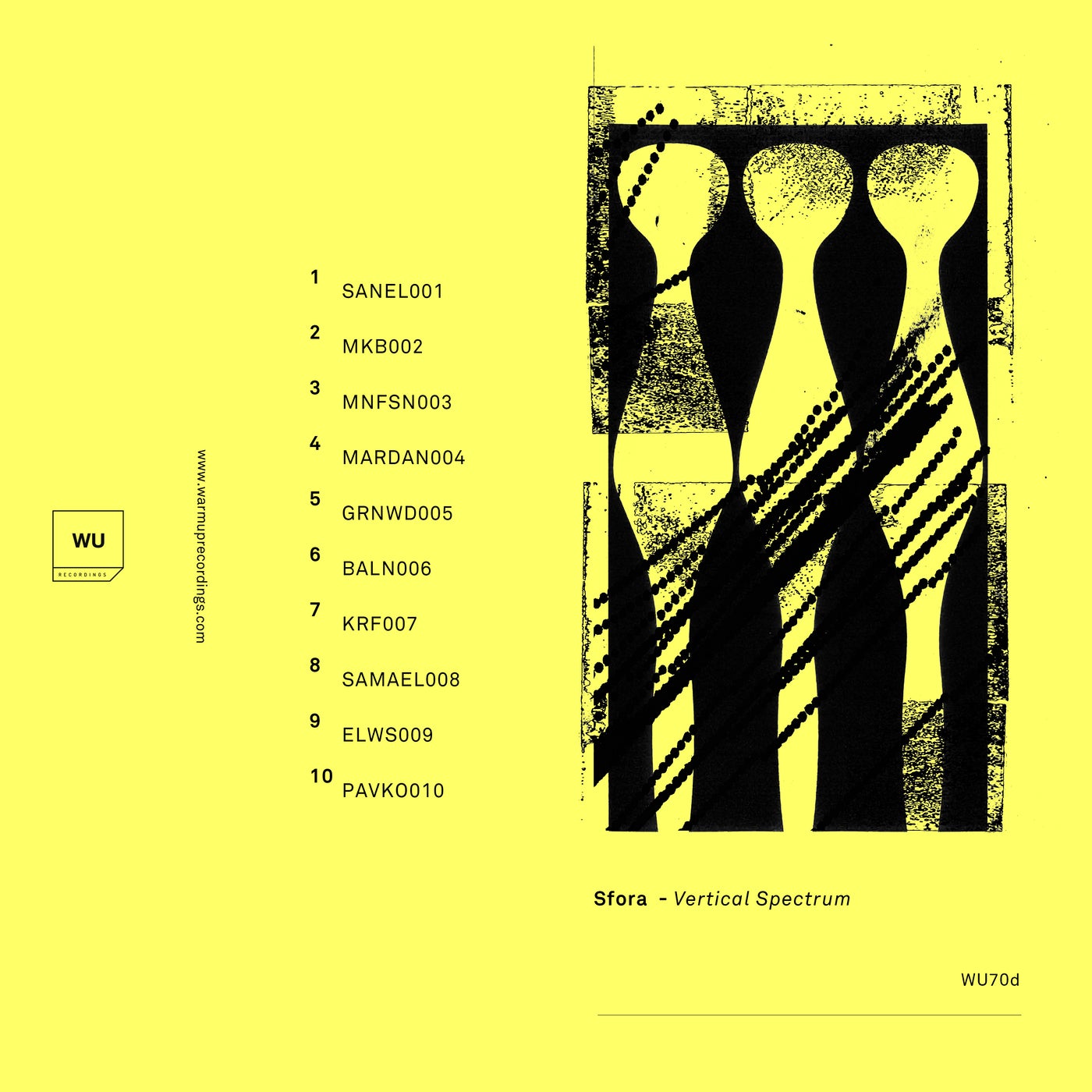 RELEASE: Sfora LP
ARTIST(S): Vertical Spectrum
REMIXERS:
LABEL: Warm Up Recordings | WU70D
GENRE: LOSSLESS, Techno (Raw / Deep / Hypnotic), Techno
RELEASED: 2021-07-09
AVAILABLE FORMAT: 965Kbps/LOSSLESS
DOWNLOAD SIZE: 327.76 MB
TOTAL TRACKS 10
Vertical Spectrum – SANEL001 (01:55)

key, bpm88

Vertical Spectrum – MKB002 (04:51)

key, bpm132

Vertical Spectrum – MNFSN003 (04:58)

key, bpm132

Vertical Spectrum – MARDAN004 (04:44)

key, bpm131

Vertical Spectrum – GRNWD005 (04:53)

key, bpm133

Vertical Spectrum – BALN006 (05:03)

key, bpm133

Vertical Spectrum – KRF007 (04:52)

key, bpm131

Vertical Spectrum – SAMAEL008 (04:56)

key, bpm130

Vertical Spectrum – ELWS009 (05:10)

key, bpm130

Vertical Spectrum – PAVKO010 (04:18)

key, bpm127
Total Playtime: 00:45:40 min
Polish enigmatic producer Vertical Spectrum gives us ten tracks of profound, precise, reverberated, alien techno for this LP.
Sfora showcases the studio skills of this veteran creator, from beatless ambient soundscapes to direct dancefloor weapons.
SANEL001 acts as a dreamy introduction of what comes next. Made of drones and sweeps, totally beatless. The spaceship engines are still warming up and everything is getting ready for the upcoming tryp.
MKB002 follows in this space travel's soundtrack with percussive parts setting the pace, introducing the drum elements wisely, spiced with textures and spacious synth sounds that constantly evolve across the expertly designed arrangement.
MNFS003 combines precision and distortion on the first bars until continuous texturized elements show off slowly. The result is a profound and mental dancefloor tool.
MARDAN004 provides alien bleeps over a solid groove, extracting the most of the stereo field creating a disturbing sense of hypnosis and hallucination. Psychedelic sci fi techno at its best.
GRNW005 goes to dancefloor territories with a combination of percussive elements and synthetic sweeps wisely served across the complex structure of the track. One more time the mind and body colliding in an exquisite mood.
BALN006 brings the bleeps again to the soundtrack, this time at a faster tempo than the previous ones. The obsessive sequences give a binaural listening experience while the percussive elements provide a solid basement to the whole track.
KRF007 is made of a few sonic components, a solid kick, an asymmetrically delayed synth drum line and some micro drones providing the necessary mental space.
SAMAEL008 continues the space tryp in similar coordinates, always combining stereo sonic details, repetitive sequences and subtle and detailed drum programming.
With ELWS009 The futuristic sound voyage is near its end and this slice sets the coordinates for the landing somewhere in the unknown universe out there. Resonant synth details, breathy drones and sharp drum machine components put the dancer in a non gravity scenario perfect for abstraction and mind expansion.
PAVKO010 closes this epic journey, looks like the spacecraft has landed now and all the machines go slowly to rest until the next tryp. Calm, relax and the satisfaction of an accomplished mission.//