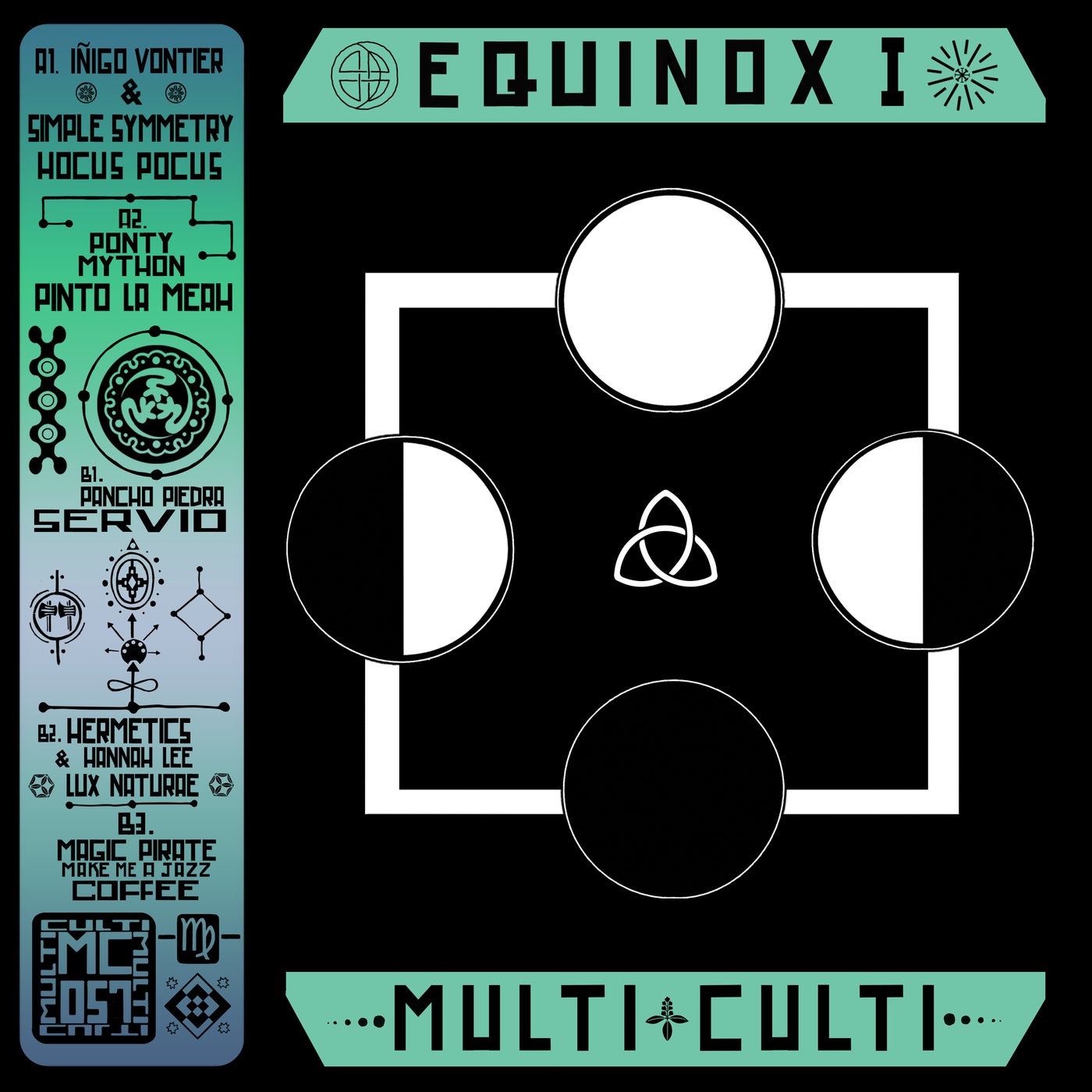 RELEASE: Multi Culti Equinox I
ARTIST(S): Hermetics, Hannah Lee, Magic Pirate, Pancho Piedra, Ponty Mython, Simple Symmetry, Inigo Vontier
REMIXERS:
LABEL: Multi Culti | MC057
GENRE: LOSSLESS, Indie Dance
RELEASED: 2021-09-22
AVAILABLE FORMAT: 868Kbps/LOSSLESS
DOWNLOAD SIZE: 162.88 MB
TOTAL TRACKS 5
Simple Symmetry, Inigo Vontier – Hocus Pocus (06:59)

key, bpm120

Ponty Mython – Pinto La Meah (06:41)

key, bpm112

Pancho Piedra – Servio (04:26)

key, bpm108

Hermetics, Hannah Lee – Lux Naturae (05:00)

key, bpm87

Magic Pirate – Make Me a Jazz Coffee (03:34)

key, bpm93
Total Playtime: 00:26:40 min
Multi Culti tune in to earth's axial tilt in the second round of it's flagship 12′ series with EQUINOX I:
The global occult label kick off the seasonal shift with a magical collaboration between Mexican chug-guru Iñigo Vontier and Moscow based brothers Simple Symmetry. 'Hocus Pocus' is an anthem for the fuzzy-minded, post-lockdown party-goer. It's a mesmerizing merger of contemporary electronics and vintage psychedelia. We don't know much about Ponty Mython, but their sound is right at home on this eclectic record. A freeform flea-market of samples strewn around a broken beat, strung together around a catchy melody, 'Pinto La Meah' has an optimistic feel, a subtly nostalgic sense of travel and discovery that suits the global groove collecting theme. 
The B-side tracks take the tempo down while raising the hands in the air, perfect for lockdown house parties wherever big-room raves are still ruled out. Ecuadorian Pancho Piedra leads the proceedings with 'Servio', serving up a loopy banger that recalls classic Comeme in the best possible way. Punchy, no nonsense party track with just enough spice in the salsa. Colombia via Buenos Aires producer Hermetics teams up with Quito-based, LA-native Hannah Lee on 'Lux Naturae' with an absolutely killer beat with massive, hydraulic-level sub bass. Finally, Magic Pirate takes the downtempo breakbeat vibe into trippier territory with a wicked sounding piano and aphex-synth-sounding romp through his wild imagination on 'Make me a Jazz Coffee.' These are fresh, genre-defying and tracks to enter the autumnal equinox, and a fearless move forward in time for earth dance fans the world over.//