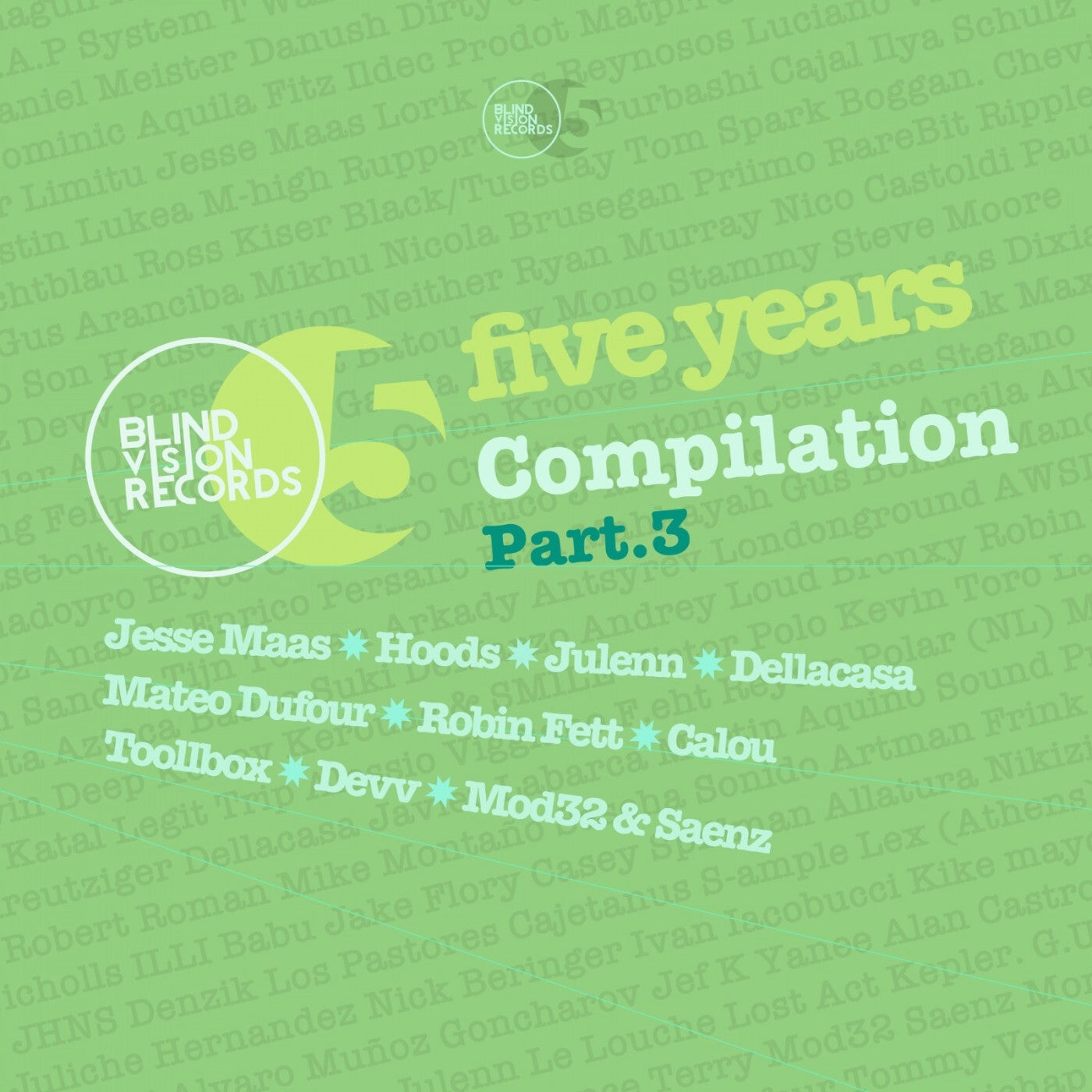 RELEASE: Five Years Compilation Part 3
ARTIST(S): Calou, Dellacasa, Devv, Hoods, Jesse Maas, Julenn, Mateo Dufour, mod32, Saenz, Robin Fett, Toollbox
REMIXERS:
LABEL: Blind Vision Records | BVRDIGITAL074
GENRE: LOSSLESS, Minimal / Deep Tech
RELEASED: 2021-09-15
AVAILABLE FORMAT: 846Kbps/LOSSLESS
DOWNLOAD SIZE: 420.89 MB
TOTAL TRACKS 10
Jesse Maas – Hit Me (07:51)

key, bpm126

Julenn – Chaperchay (06:44)

key, bpm126

Toollbox – Talisman (07:04)

key, bpm128

Robin Fett – Bare Minimum (05:58)

key, bpm130

Mateo Dufour – Genetic (07:05)

key, bpm127

Calou – Journey 2 (07:54)

key, bpm127

mod32, Saenz – B4001 (06:29)

key, bpm126

Hoods – Cliff (06:13)

key, bpm126

Dellacasa – Its Time (07:10)

key, bpm126

Devv – Current state (07:10)

key, bpm125
Total Playtime: 01:09:38 min
A journey of our last 5 years with you, this is our last PART 3 of our special compilations that we are putting together just for you! All this tracks have been previously released on Vinyl only but now are available to everyone!
Thank you for your continuous support and letting us do what we love!
Distributed by Pressology – www.pressology.net//