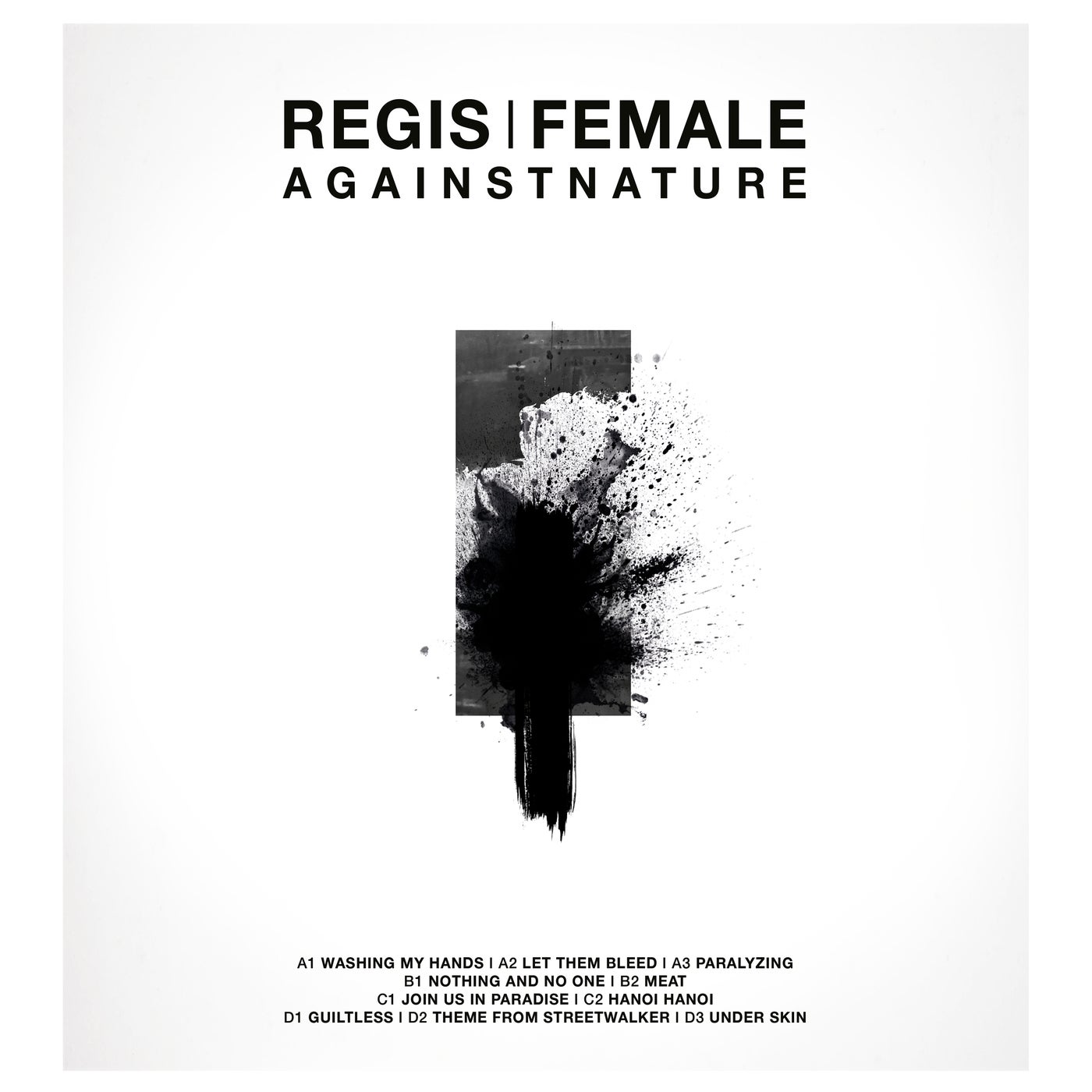 RELEASE: Againstnature
ARTIST(S): Female, Regis
REMIXERS:
LABEL: Tresor Records | TRESOR147
GENRE: LOSSLESS, Techno (Raw / Deep / Hypnotic), Techno
RELEASED: 2021-10-22
AVAILABLE FORMAT: 844Kbps/LOSSLESS
DOWNLOAD SIZE: 321.82 MB
TOTAL TRACKS 10
Female, Regis – Washing My Hands (02:32)

key, bpm97

Female, Regis – Let Them Bleed (05:47)

key, bpm137

Female, Regis – Paralyzing (02:32)

key, bpm85

Female, Regis – Nothing and No One (04:55)

key, bpm137

Female, Regis – Meat (05:25)

key, bpm138

Female, Regis – Join Us in Paradise (05:03)

key, bpm137

Female, Regis – Hanoi Hanoi (05:31)

key, bpm137

Female, Regis – Guiltless (06:25)

key, bpm68

Female, Regis – Theme from Streetwalker (05:16)

key, bpm138

Female, Regis – Under Skin (01:57)

key, bpm86
Total Playtime: 00:45:23 min


Continuing the series of reissues from the Tresor catalogue, Tresor Records announces an updated version of the classic Regis and Female long-player, Againstnature.
Originally released in the year 2000, the album represents a pivotal moment in the emergence of the "Birmingham Sound"; a stripped-back sub-genre of Techno, pioneered around this time in the English hub by artists such as Regis, Female, and Surgeon.
Influenced more by Industrial, Music Concrete, and EBM than from the melodic sounds of its Detroit predecessor, Regis later described the music as being made with a fractured pop sensibility which created a sound that may be faceless but by design loses none of the soul of its American counterpart.
Nowhere is this sonic changing of the guard more apparent than in opening track, Washing My Hands, which sets the stage with a vignette of field recordings: arc welders, water boilers and other sounds reminiscent of industrial workshops reframe your senses, placing your mind into a familiar yet unsettling dreamlike space. From this soundscape emerges a high-pitched, vitreous noise heralding the jarring introduction of Let Them Bleed, the first of several trance-inducing tracks on the album such as Join Us In Paradise, and Guiltless, which layer percussive and sampled loops creating what Peter Sutton (aka Female) described as exotic hypnotics.
This remastered edition of Againstnature also features the additional track, Theme From Streetwalker, previously only available on Volume 6 of the Tresor Compilation series. Collected together the album is a key work in the progression of this sub-genre to the dominant form of Techno heard in clubs in Berlin and around the world today.