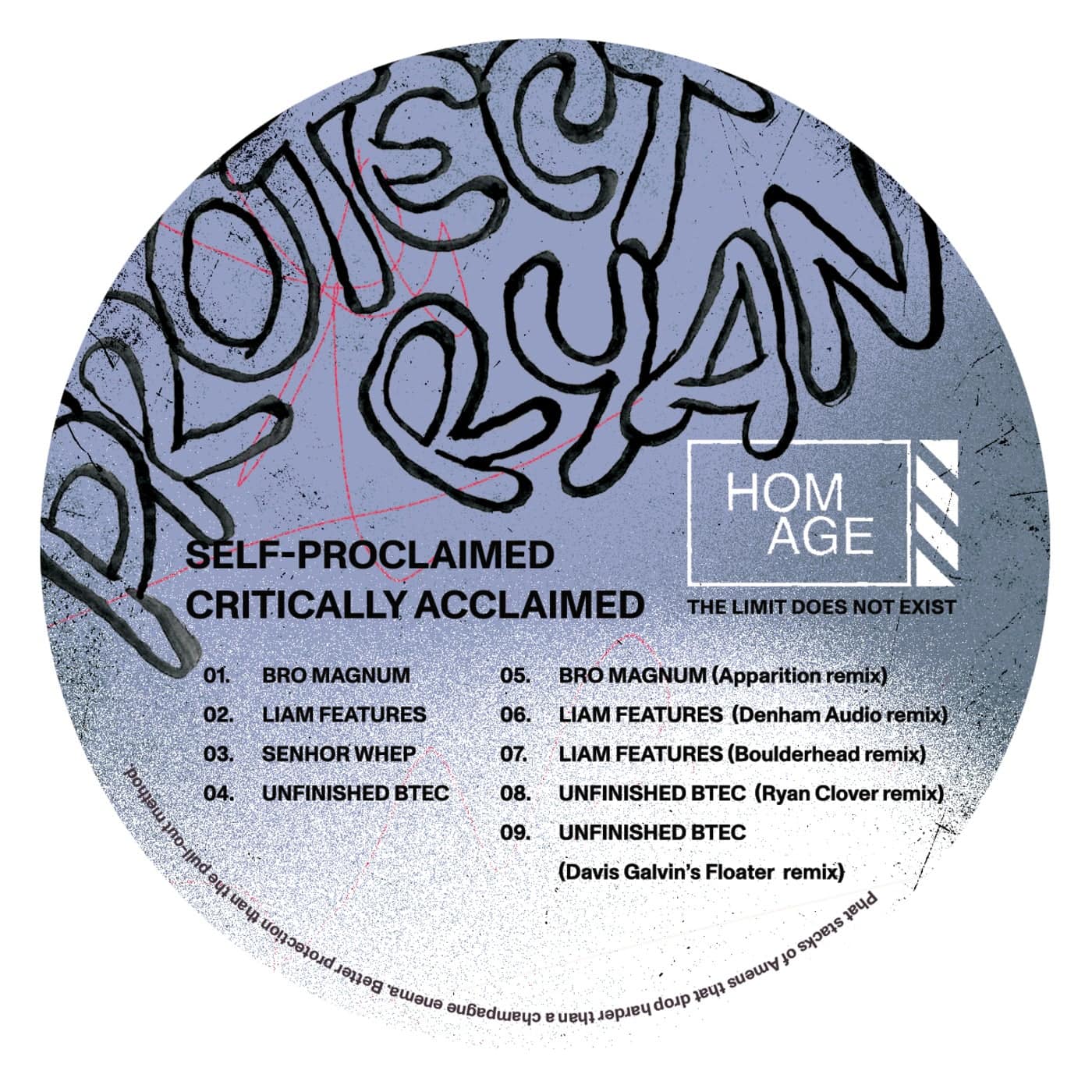 RELEASE: Self-proclaimed Critically Acclaimed
ARTIST(S): Protect Ryan
REMIXERS: Apparition, Boulderhead, Davis Galvin, Denham Audio, Ryan Clover
LABEL: HOMAGE | HOMAGE017
GENRE: LOSSLESS, Electro (Classic / Detroit / Modern)
RELEASED: 2022-04-15
AVAILABLE FORMAT: 983Kbps/LOSSLESS
DOWNLOAD SIZE: 345.80 MB
TOTAL TRACKS 9
Protect Ryan – Bro Magnum (05:05)

key, bpm139

Protect Ryan – Liam Features (05:51)

key, bpm84

Protect Ryan – Senhor Whep (05:54)

key, bpm145

Protect Ryan – Unfinished BTEC (04:35)

key, bpm67

Protect Ryan – Bro Magnum (Apparition Remix) (06:18)

key, bpm119

Protect Ryan – Liam Features (Denham Audio Remix) (06:00)

key, bpm91

Protect Ryan – Liam Features (Boulderhead Remix) (06:05)

key, bpm137

Protect Ryan – Unfinished BTEC (Ryan Clover Remix) (06:03)

key, bpm128

Protect Ryan – Unfinished BTEC (Davis Galvin's Floater Mix) (07:26)

key, bpm104
Total Playtime: 00:53:17 min
Mysterious supergroup Protect Ryan make their debut on the prolific Brooklyn label HOMAGE with their 'Self-proclaimed Critically Acclaimed' EP, featuring four original rave bangers paired with remixes from five of the scene's most trusted underground producers.
Protect Ryan unites three friends (all veteran producers) that first came together through their shared love of '90s rave culture. Their debut EP arrived on DJ Die's GutterFunk label and introduced the world to their distinct ethos, producing club-ready cuts that inject the dancefloor with big energy. Now they expand on their story with the purest form of their dynamic sound, the 'Self-proclaimed Critically Acclaimed' EP on HOMAGE.
Leading off with 'Bro Magnum', Protect Ryan launch into an all-out assault of banging breakbeats and growling bass before a squelching acid line takes over. Then comes 'Liam Features', a track also forthcoming on TSHA's fabric presents compilation, which follows with more rouged rhythms paired with playful stabs transporting listeners back to the golden age of rave. Next is 'Senhor Whep' and its nostalgic drum breaks that lay the foundation for an absolutely naughty acid line building into peak time euphoria. Finally, rounding out the Protect Ryan originals is 'Unfinished BTEC' delivering the trio's most refined sound, with tight percussion and chopped vocals stacked on top of a smooth, deep, and emotive bass line.
While the originals are enough to satisfy anyone's thirst for rave-ready anthems, the release is complete with a staggering collection of remixes. Building on the energy that was already laid out, Apparition speeds up the bpm with their version of 'Bro Magnum' for a hyper bass banger. Then Club Glow's own Denham Audio takes on 'Liam Features' with his signature breakbeat NRG before Boulderhead flips the same track into a bumping house cut highlighting the original's infectious bassline. Finishing off the release are two remixes of 'Unfinished BTEC', first by HOMAGE label co-founder Ryan Clover who's hard-hitting version highlights the deep squelchy bass and chopped percussion while Davis Galvin delivers a sublime and ethereal downtempo chugger.//