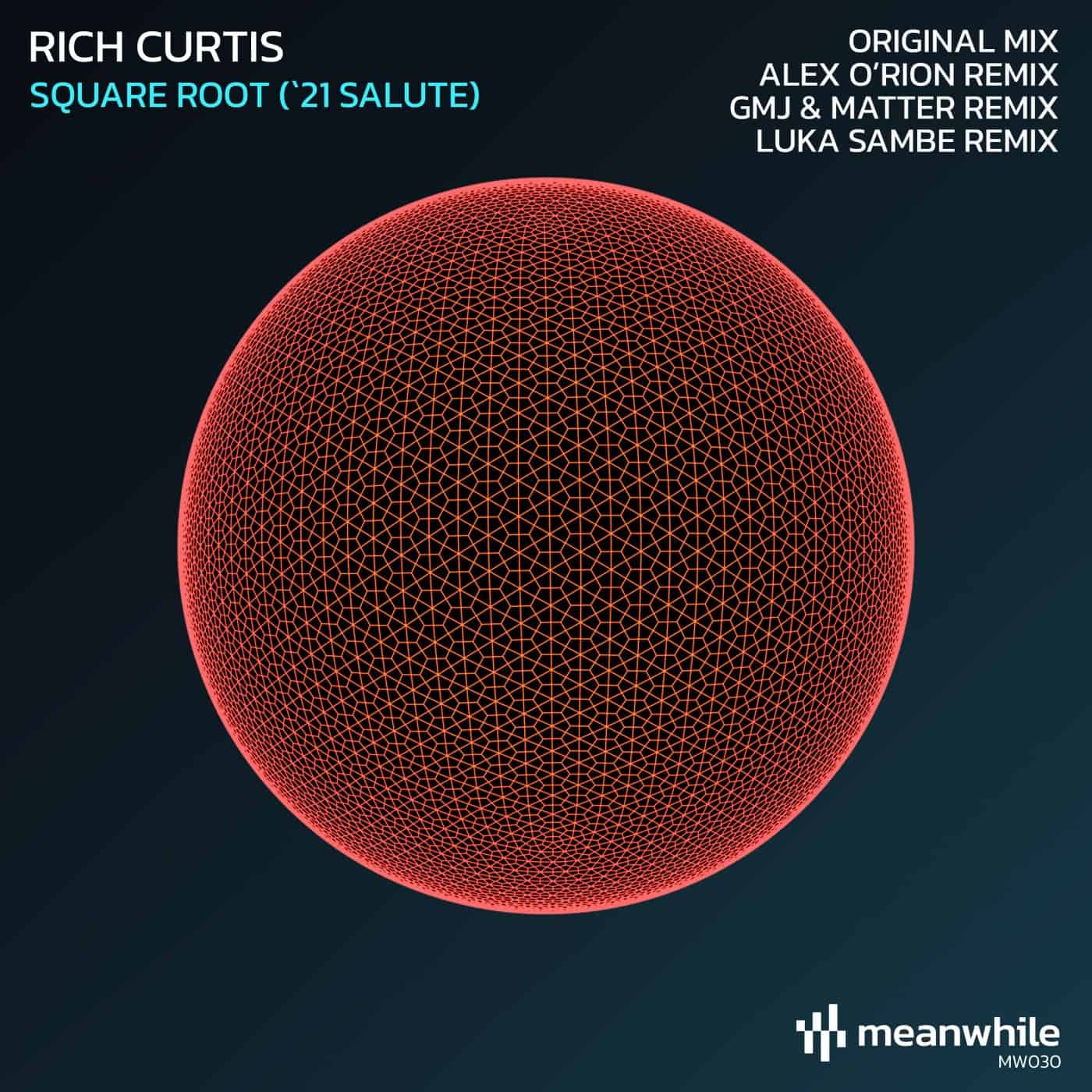 RELEASE: Square Root ('21 Salute)
ARTIST(S): Rich Curtis
REMIXERS: Alex O'Rion, GMJ, Matter, Luka Sambe
LABEL: Meanwhile | MW030
GENRE: LOSSLESS, Progressive House
RELEASED: 2022-05-13
AVAILABLE FORMAT: 983Kbps/LOSSLESS
DOWNLOAD SIZE: 221.12 MB
TOTAL TRACKS 4
Rich Curtis – Square Root ('21 Salute) (07:24)

key, bpm122

Rich Curtis – Square Root ('21 Salute) (Alex O'Rion Remix) (07:06)

key, bpm120

Rich Curtis – Square Root ('21 Salute) (GMJ & Matter Remix) (08:31)

key, bpm121

Rich Curtis – Square Root ('21 Salute) (Luka Sambe Remix) (08:08)

key, bpm120
Total Playtime: 00:31:09 min
An iconic figure within the underground dance fraternity for over a decade, Rich Curtis makes his Meanwhile debut with an iconic track in the shape of "Square Root ('21 Salute)".
Rich Curtis has been a regular on an array of blue-chip labels over the course of a stellar career which has seen releases on Sudbeat Music, Tulipa Recordings, Proton Music and Replug. Indeed, it was the Cid Inc. owned imprint that Curtis made his 2010 debut with "Square Root". Now reprising the track with a 2022 makeover, the "('21 Salute)" is a rich and textured affair that retains all the melodic hallmarks of the original while updating the sound with beautifully woven new motifs and sparking arpeggio. Sounding bright and warm in the spring sun, Rich Curtis has breathed new life into his renowned track.
Another artist with an impressive portfolio of music to his name and reputation to match, Alex O'Rion has found his work allied to a host A-list imprints including the likes of Replug, Sudbeat Music and Guy J's Lost and Found. A regular contributor to Meanwhile with 2021's "Echium" EP and remixes for GMJ and Matter's "Gauntlet", The Dutch master returns to the label with a typically evocative offering. Making beautiful use of Curtis' original components they are complemented with a slew of additional production material that extends his remix with spine-tingling new melodies that blossom in the breakdown and second half. A hefty rhythmic backdrop and ticking percussive groove add further to the powerful new interpretation.
Returning to remix duties on their ever-growing and increasingly popular label, GMJ and Matter once again feature on Meanwhile with a dazzling new reworking. Continuing an illustrious run of original and remix production credits that have helped shape their label, the Australian duo have cemented their reputation as elite progenitors of the modern progressive house sound. Sprinkling magic dust all over "Square Root ('21 Salute)", a trademark groove immediately provides dancefloor desirability while new melodic patterns wander in beautifully coruscating patterns across the 8-minute plus offering. Themes resonant with Rich Curtis' original are infused throughout, but GMJ and Matter's skill is to turn them into distinct variations that evolve and develop with gloriously textured soundscapes.
The final remix sees Luka Sambe return to Meanwhile. An artist with a triple century of production credits to his name dating back to 2013, Luka Sambe has seen his reputation and stature grow strongly in equal measures. Winning plaudits for releases on a string of high-profile labels, music for Balance Music, Lost and Found and Sudbeat Music has seen the Australian consistently find himself in the upper echelons of the progressive and organic house charts. Now following up September 2020's "Alive is the Meaning" and the "Spy Games" EP on Meanwhile Horizons a year later, the Luka Sambe remix glistens with a silky melodic sheen that sees its origins in Rich Curtis' original while intelligently creating a new path. Familiar arpeggios shimmer atop pulsating new pads and twinkling synth phrases that come to the fore at the breakdown before opening up in the third movement. A deep sub-bass groove and flowing rhythmic backdrop complete a mesmerising sonic picture.
With a stellar cast on display including Alex O'Rion, GMJ and Matter and Luka Sambe, Rich Curtis and his "Square Root ('21 Salute)" EP is so much more than the sum of its individual parts.
Directed by GMJ and Matter
Mastered by Cid Inc.
Design by Matter
Text by James Warren//