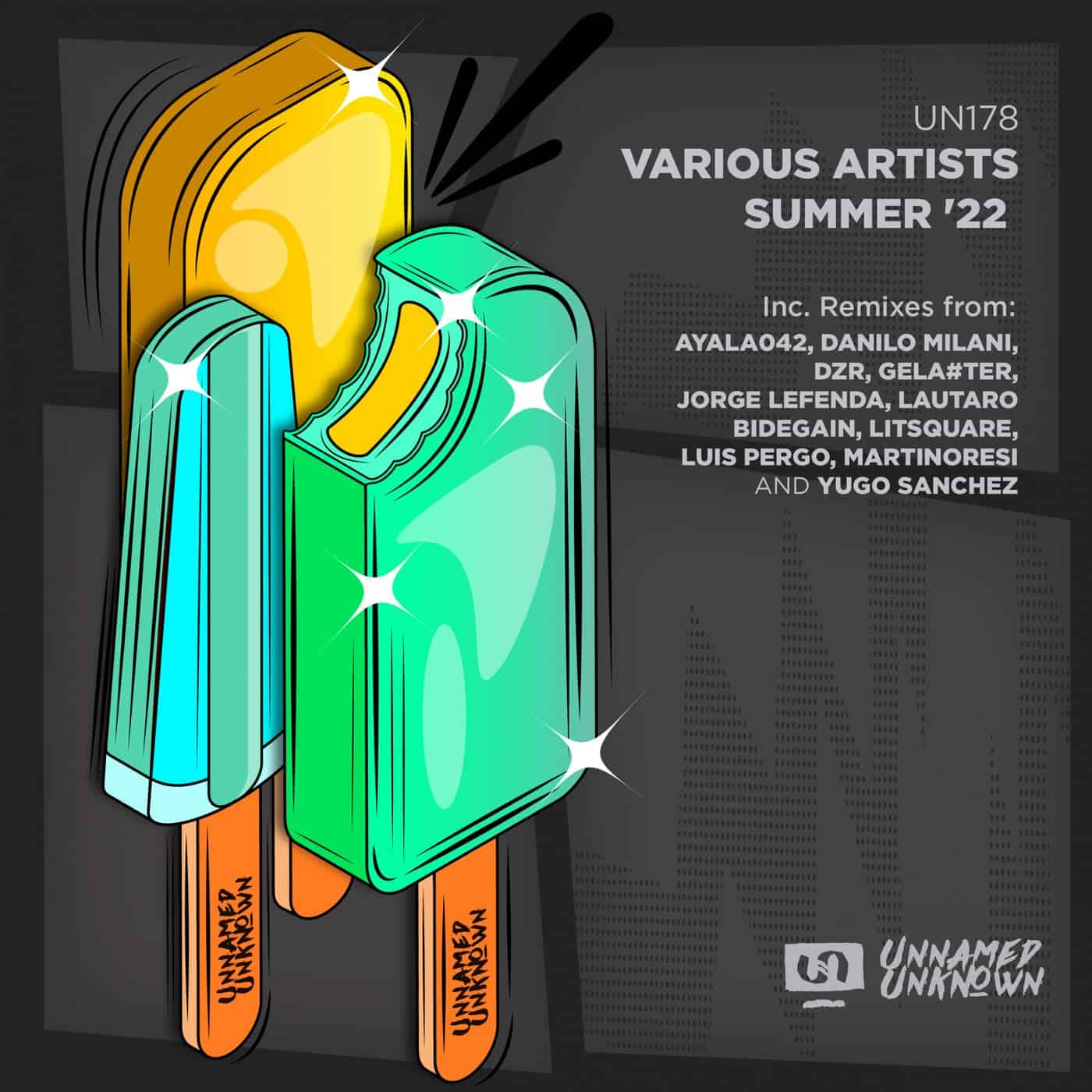 RELEASE: Summer '22
ARTIST(S): Ayala042, Danilo Milani, DZR, Gela#ter, Jorge Lefenda, Lautaro Bidegain, Luis Pergo, MartinoResi, Lit Square, Yugo Sanchez
REMIXERS:
LABEL: Unnamed & Unknown | UN178
GENRE: LOSSLESS, Tech House
RELEASED: 2022-06-09
AVAILABLE FORMAT: 906Kbps/LOSSLESS
DOWNLOAD SIZE: 396.89 MB
TOTAL TRACKS 9
Yugo Sanchez – Keep On Going (06:02)

key, bpm128

Lautaro Bidegain – Need (06:18)

key, bpm94

Ayala042 – Bubbles People (06:17)

key, bpm128

Danilo Milani – If You (05:52)

key, bpm126

Gela#ter – Dance (05:56)

key, bpm127

MartinoResi, Lit Square – Flight (07:27)

key, bpm126

Jorge Lefenda – Love The Music (06:10)

key, bpm125

Luis Pergo – Topanga (06:27)

key, bpm126

DZR – Shake That (06:59)

key, bpm126
Total Playtime: 00:57:28 min
As we approach the warmer months – we welcome summertime with a nine-track VA compilation featuring a host of label favourites and new faces.
Yugo Sanchez's 'Keep On Going' kicks things off with driving sub-bass and rippling grooves accompanied by vocal injections and subtle melodies from end to end to carve out an upbeat terrace track with loads of flair and personality. 'Need' sees Lautaro Bidegain deliver a robust drum-focused underground cut filled with deepened tones and widened atmospheric scenes.
Ayala042's 'Bubbles People' flips the script with a bumpy late-night number, bringing swinging rhythms, moody melodies and quirky tonal fills alongside an attitude-laden vocal. Danilo Milani brings it back to peak time with 'If You', combining pumping drums with a pulsating sub-bassline and rap vocals for a landslide of high-energy Tech House flavours.
Gela#ter strips things back with 'Dance', mixing a jacking flow of drums with a rhythmic bassline, subtle vocal chops and cleverly panned percussive elements to create a clean-cut vibe builder. MartinoResi & Lit Square's 'Flight' keeps the energy at a premium with big-room Tech flavours. Weighty drums and roaring sub-bass meet crisp percs, synth licks and a commanding female vocal.
Jorge Lefenda's 'Love The Music' combines bumpy drum work with subterranean energy, rolling around atmospheric builds and a sultry female vocal – complemented by hypnotic harmonies and suspenseful transitions. 'Topanga' showcases a high-energy rolling format from Luis Pergo that builds around a reeling vocal hook and endless layers of tonal percussion alongside watertight drum work and another mammoth bassline. DZR rounds off the release with 'Shake That' – an archetypal U&U fast-paced terrace ace roller with endless energy from the outset.
The 'Summer'22' compilation is out on 9th June 2022 on Unnamed & Unknown.//