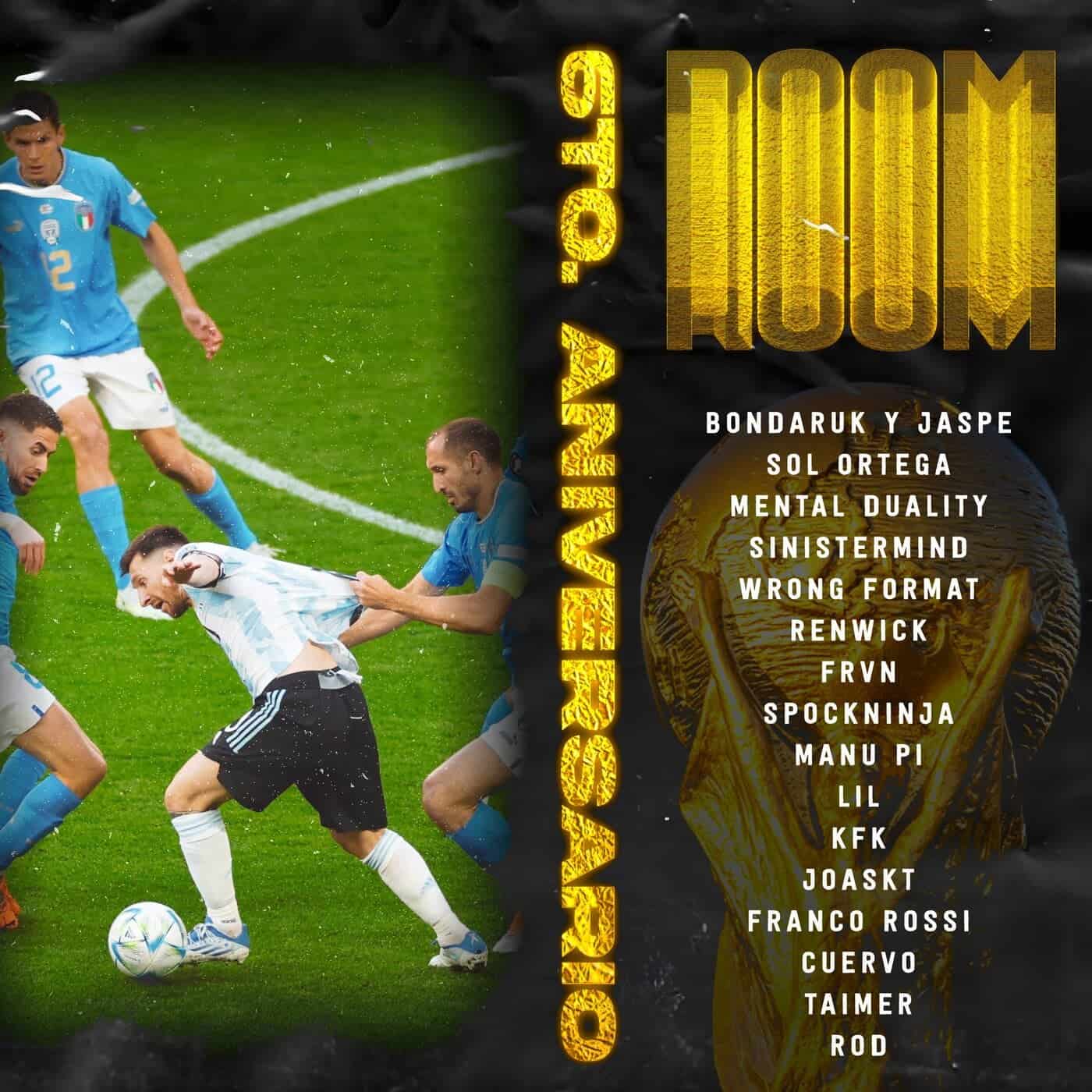 RELEASE: 6to. Aniversario
ARTIST(S): Alexis Rod, Bondaruk, Jaspe, Cuervo, Fanco Rossi, FRVN, Joaskt, KFK, LIL (ARG), Manuel Pi, Mental Duality, Renwick, Sol Ortega, Spockninja, taimer, Wrong Format
REMIXERS:
PUBLISHER: ROOM recs / ROOMPLUS007
MUSICAL GENRE: Lossless, Techno (Raw / Deep / Hypnotic)
RELEASE DATE: 2022-12-14
DOWNLOAD FORMAT: 792Kbps, LOSSLESS
FILE SIZE: (559.78 MB)
6to. Aniversario have 16 TOTAL TRACKS
Bondaruk, Jaspe – 2 a 0 en la ida (06:21) 05A, 140
Bondaruk, Jaspe – Salimos Jugando (Var Mix) (06:04) 08B, 144
Cuervo – Sembradores Del Odio (05:26) 08B, 140
FRVN – Cant Believe (05:14) 04A, 68
Joaskt – Robin The Hood (06:40) 08B, 145
KFK – Masamune (05:23) 06A, 143
LIL (ARG) – GOAT (04:54) 11A, 140
Mental Duality – Madness (05:24) 04A, 144
Manuel Pi – No Contacto (06:06) 06A, 150
Renwick – Jar'Kai Tactic (06:38) 09A, 140
Alexis Rod – Me hago mierda y esta bien (05:08) 09A, 150
Sol Ortega – Desire (Locked Version) (05:36) 05A, 140
Spockninja – Clutch Kickin (06:00) 06A, 141
taimer – Get Down (05:24) 03B, 144
Wrong Format – Unresponsive (06:18) 06B, 144
Fanco Rossi – Cauda (05:23) 02A, 144
Total Playtime: 01:31:59 min
Download 6to. Aniversario in 320 MP3, FLAC, and AIFF
ROOM presents a new release with our track 'Samos jugar' and '2 a 0 en la ida', celebrating our 6th anniversary, 6 years ago with 'jaspe' we created this space that we gave so much love, along with others great friends who are no longer here today, but without them, this would have been impossible to sustain and thanks to all of them, today it is still standing, a space for artists, who support the most beautiful part of underground art, all of them contributed to throughout the passage of time to this beautiful cause that is to make music by and for the kids.
° Today we present a release with 18 national and international artists bringing together everything we like, music and fulbo and from Argentina to
ES –
⭕ Hoy sale la venta un lanzamiento de ROOM , con nuestro track ' Salimos jugando ' y ' 2 a 0 en la ida ' , festejando nuestro aniversario número 6, hace 6 años atrás con jaspe creamos este espacio que tanto amor le dimos , junto a otros grandes amigos que hoy ya no están pero sin ellos y ellas, esto, hubiera sido imposible sostener y gracias a todos ellos hoy por hoy sigue en pie , un espacio para artistas, que apoyan la parte más linda del arte underground , todos ellos contribuyeron a lo largo del paso del tiempo a esta causa tan hermosa que es hacer música por y para los pibes.
° Hoy presentamos un lanzamiento con 18 artistas nacionales e internacionales reuniendo todo lo que nos gusta, música y fulbo y de argentina al ?
° El que tenga ganas de tener este lanzamiento en máxima calidad solo debe pedirnosla y está disponible en todas las plataformas desde Tiktok hasta Spotify ♥️//