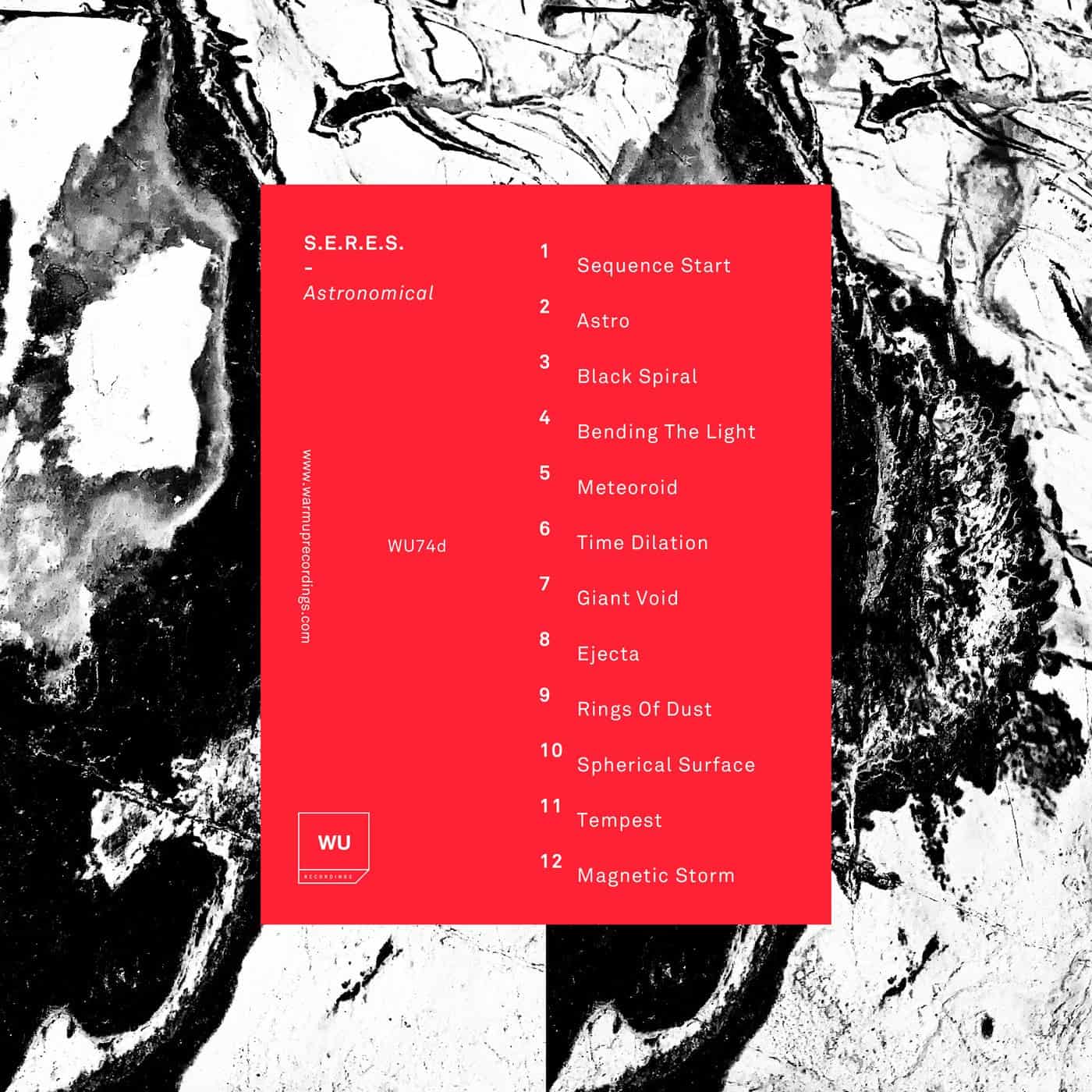 RELEASE: Astronomical LP
ARTIST(S): S.E.R.E.S.
REMIXERS:
LABEL: Warm Up Recordings | WU74D
GENRE: LOSSLESS, Techno
RELEASED: 2022-06-01
AVAILABLE FORMAT: 797Kbps/LOSSLESS
DOWNLOAD SIZE: 377.08 MB
TOTAL TRACKS 12
S.E.R.E.S. – Sequence Start (Original mix) (03:17)

key, bpm126

S.E.R.E.S. – Astro (Orginal mix) (05:16)

key, bpm130

S.E.R.E.S. – Black Spiral (Original mix) (05:24)

key, bpm133

S.E.R.E.S. – Bending The Light (Original mix) (05:09)

key, bpm132

S.E.R.E.S. – Meteoroid (Original mix) (04:56)

key, bpm133

S.E.R.E.S. – Time Dilation (Original mix) (05:42)

key, bpm132

S.E.R.E.S. – Giant Void (Original mix) (05:13)

key, bpm131

S.E.R.E.S. – Ejecta (Original mix) (05:09)

key, bpm132

S.E.R.E.S. – Rings Of Dust (Original mix) (05:17)

key, bpm130

S.E.R.E.S. – Spherical Surface (Original mix) (04:51)

key, bpm128

S.E.R.E.S. – Tempest (Original mix) (05:05)

key, bpm129

S.E.R.E.S. – Magnetic Storm (Original mix) (03:19)

key, bpm93
Total Playtime: 00:58:38 min
New full length album in our digital branch, this time signed by S.E.R.E.S. alter ego of Kike Pravda, who offers 12 fine exercises of advanced and mental techno.
Sequence Start is the opener, classic old school NASA samples, abstract textures and ethereal sound design preparing for what comes next.
Astro goes straight into action after the introduction. Elastic synth lines and sub heavy basement as starting point soon filled with additional percussive layers and textures sequences.
Black Spiral follows, increasing intensity but preserving the elastic nature in the sound palette. Sound elements are wisely administered through the arrangement to create an evolving feeling.
In Bending the Light the pressure is released a bit, going into deeper territories, the BPM range decreases and the approach is more mental.
The five cut, Meteoroid, returns to busy action with continuous and hypnotic lines fighting against each other over a rolling groove. A merciless exercise.
We are in the middle of the sound travel with Time Dilation, a well deserved rest after the previous intensity, returning to mentalism and scifi.
Giant Void comes from the darkest frequencies of the spectrum and it's progressively growing until all elements show up, mutating sequences are expertly arranged in an unpredictable way to keep the tension on the dancefloor as required.
Number 8 is Ejecta, minimal and floaty at the same time, ideal to add tension on linear sets or to be used as a tool.
Rings of Dust acts as a continuation to the previous track, gummy and textured.
Spherical Surface slows down the pace, adds some micro drone action and keeps exploring the elastic and liquid side of mental techno as Tempest does.
Closing the sound voyage, the beatles Magnetic Storm serves as an outro with the soundtrack of the unmeasurable universe.
A well crafted collection of advanced electronics for those who want to keep it spacey.//