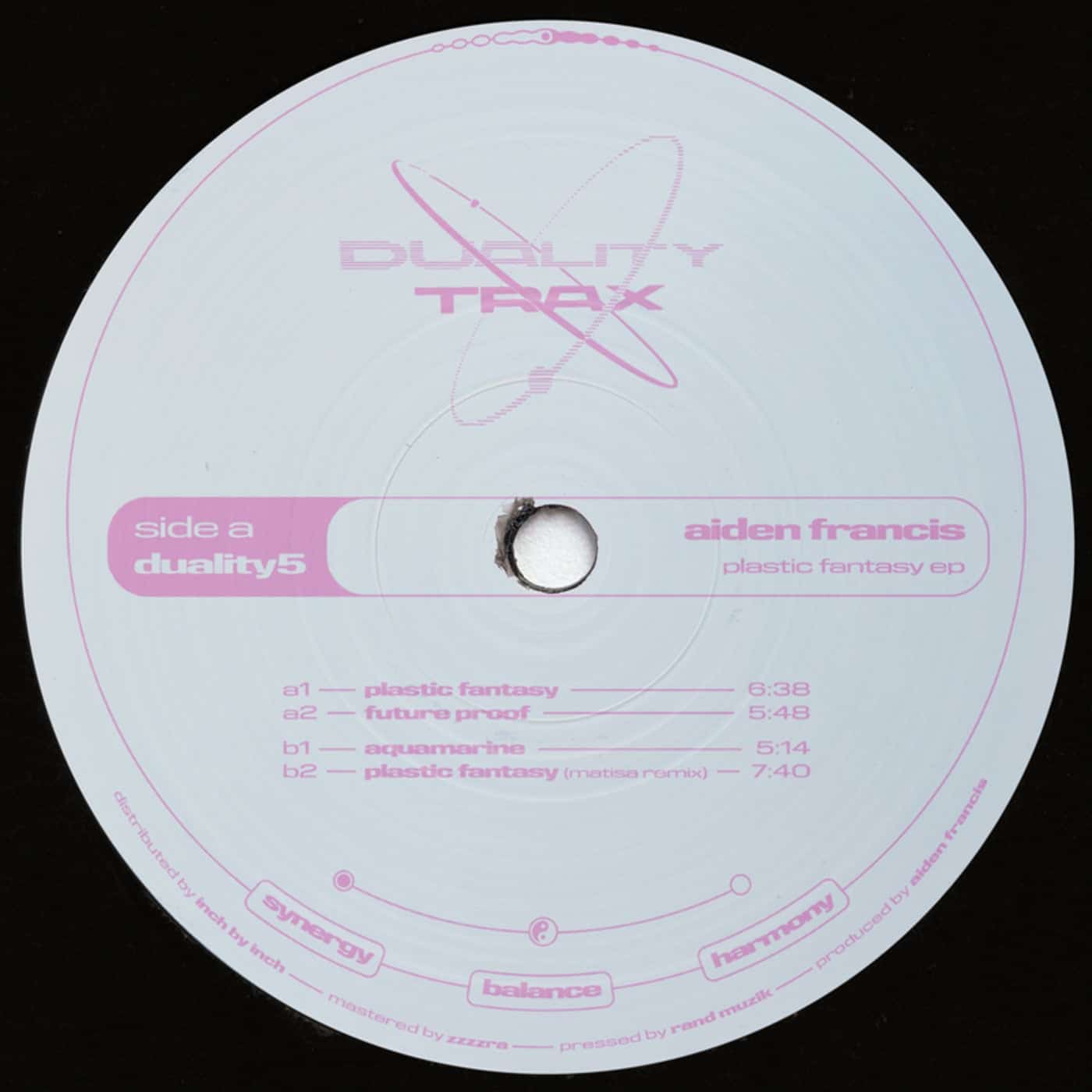 RELEASE: Plastic Fantasy EP
ARTIST(S): Aiden Francis
REMIXERS: Matisa
PUBLISHER: Duality Trax / DUALITY5
MUSICAL GENRE: Lossless, Progressive House
RELEASE DATE: 2023-03-03
DOWNLOAD FORMAT: 905Kbps, LOSSLESS
FILE SIZE: (160.06 MB)
Plastic Fantasy EP have 4 TOTAL TRACKS
Aiden Francis – Plastic Fantasy (06:38) 12A, 138
Aiden Francis – Future Proof (05:49) 02B, 128
Aiden Francis – Aquamarine (05:14) 03B, 126
Aiden Francis – Plastic Fantasy (Matisa Remix) (07:41) 05A, 138
Total Playtime: 00:25:22 min
Download Plastic Fantasy EP in 320 MP3, FLAC, and AIFF
Holly Lesters Duality Trax Label has quickly become synonymous for its blend of future facing sonics and mind-warping melodies, served together with a healthy dose of nostalgia. A label just as focused on making dancefloor destroyers as it is exploring left-leaning, personal projects, its within this duality where the label has found its success, never afraid to shy away from b side oddities or tracks edging more towards good-old-fashioned-fun.
DUALITY5 steers towards the latter, with Manchester based DJ & producer Aiden Francis providing the serotonin on tap with three lively dancefloor cuts, including a huge remix from Italys Matisa. Aiden had a big 2022, releasing music on Magic Carpet, Gestalt and beloved music platform and label Houseum, solidifying himself as one to watch in the euphoric unity of house, trance and techno.
Title track Plastic Fantasy is the star of the show, a suitably sassy roller that places everyone's favorite blonde icon front left of the speakers. Subtle old school strings contrast with alien electronics, providing familiarity in an otherwise unfamiliar world. A bubble-gum vocal then rolls in cheekily over a driving bassline and dynamic percussion – used in a way Im not sure the original creators had in mind. Future Proof meanwhile demonstrates Aidens knack for contemporary progressive house music. With warm pads, swirling sonic textures and moments of blissful euphoria, its energetic enough to move a dancefloor, but gentle enough for home listening too.
The record comes to a close with Aquamarine, with Aiden opting in favour of free flowing breakbeats and mind expanding synths, together radiating a feeling of warmth and hope for days to come. Italian DJ and producer Matisa is on hand to round the EP off with a bass-heavy rendition of Plastic Fantasy a no-holds-barred speed garage licked stomper, with the power to lure smokers back inside the club with their feet firmly planted on the dancefloor.//