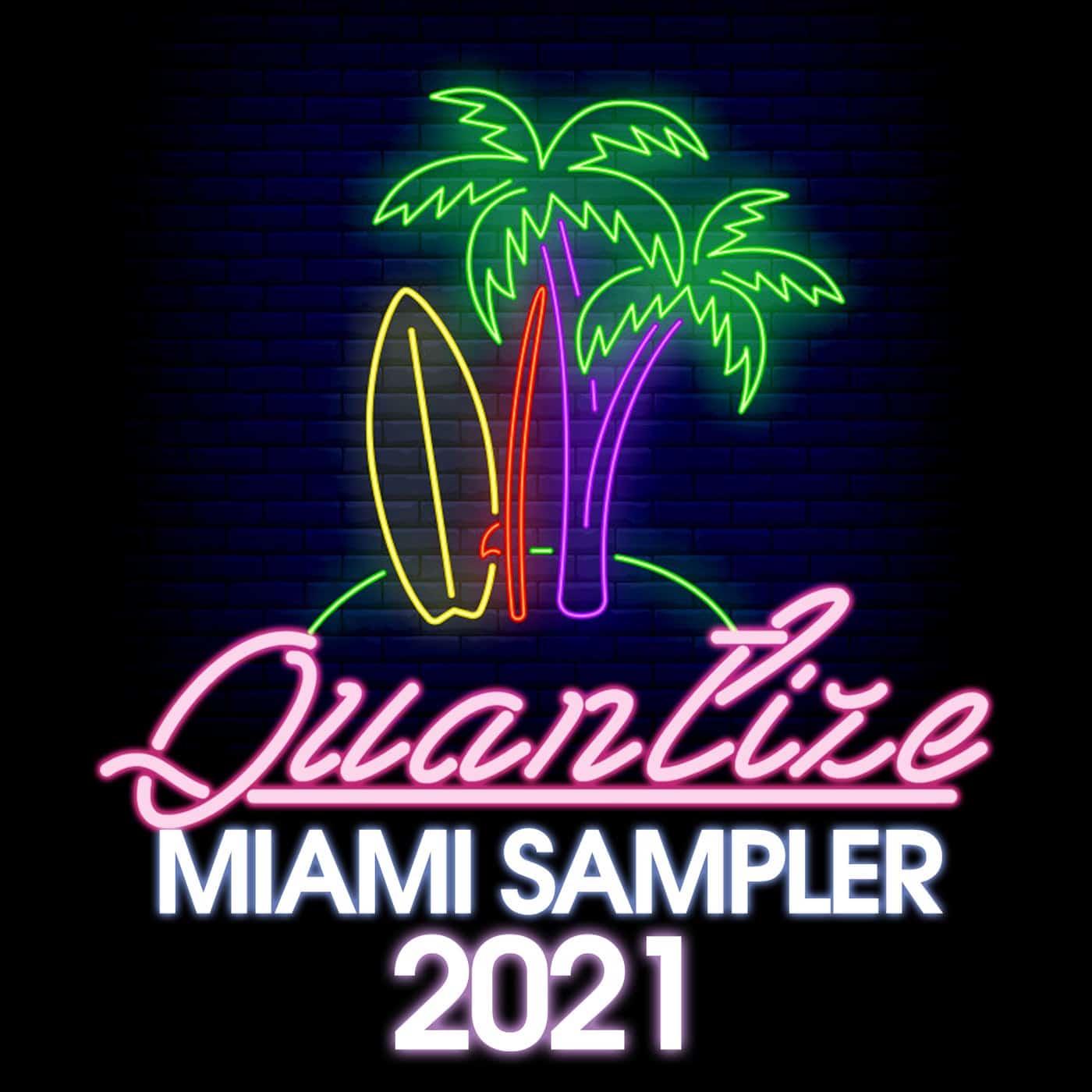 RELEASE: Quantize Miami Sampler 2021 – Compiled By DJ Spen
ARTIST(S): Barbara Tucker, DJ Fatman, DJ Niledge, DJ Fella, DJ Spen, Fonda Rae, Fil Straughan, Geoffrey C, Jerome Hicks, Richard Burton, Roland Clark, Ron Hall, Ronnie Herel, Gary Poole, Sahib Muhammad, Souldiers Of The Cross, Subzero, Greg Lewis, Thommy Davis, Neal Conway, Dana Weaver
REMIXERS: Damond Ramsey, Reelsoul, DJ Spen, Thommy Davis, Gianni Junior, Greg Lewis, Jaeger & Rynhart, MicFreak
PUBLISHER: Quantize Recordings / QTZMIAMI010
MUSICAL GENRE: Lossless, House
RELEASE DATE: 2021-04-09
DOWNLOAD FORMAT: 947Kbps, LOSSLESS
FILE SIZE: (677.26 MB)
Quantize Miami Sampler 2021 – Compiled By DJ Spen have 14 TOTAL TRACKS
DJ Spen, Fonda Rae – I Don't Want Nobody (Jaeger & Rynhart Remix) (08:51) 06A, 122
Ron Hall – Talk To God 'Bout It (Spen's Sunday Service Re Edit) (07:21) 09B, 123
Ronnie Herel, Gary Poole – Thinking About Your Love feat. Gary Poole (06:39) 10A, 122
Thommy Davis, Greg Lewis – Hot (WMC ReWork) (06:06) 09A, 125
Barbara Tucker, DJ Fatman, DJ Niledge – Really Luv House Music feat. Barbara Tucker, DJ Fatman (DJ Spen & Reelsoul House Anthem Remix) (08:00) 03B, 124
Roland Clark – I Can't Breathe (Micfreak's Regroove Mix) (07:02) 09B, 124
Jerome Hicks, Richard Burton – Love to The World feat. Richard Burton (Damond Ramsey Remix) (07:44) 08A, 122
Sahib Muhammad – H.O.U.S.E. Music Part 2 (06:28) 02B, 120
Geoffrey C – Cricket Groove (08:04) 04A, 127
Fil Straughan – Everyday (Thommy Davis & DJ Spen Remix) (05:28) 10A, 124
DJ Fella – Let The Horns Blow (Greg Lewis Remix) (05:47) 12A, 123
Thommy Davis, Neal Conway, Dana Weaver – Make My Body Rock (Gianni Junior's Dub Edit) (05:14) 05A, 124
Subzero – Conversations (Thommy Davis & DJ Spen Re Edit) (06:59) 09A, 122
Souldiers Of The Cross – Fire (DJ Spen Remix) (06:41) 07A, 127
Total Playtime: 01:36:24 min
Download Quantize Miami Sampler 2021 – Compiled By DJ Spen in 320 MP3, FLAC, and AIFF
Various Artists 'Quantize Miami Sampler 2021 – Compiled by DJ Spen'
Sean Spencer, Thommy Davis, and Kelly Spencer Executive Producers
Now, more than ever, the world needs uplifting, inspirational music.
We have the perfect tonic with our annual Miami Sampler! Still rightly considered as one of dance music's hot spots, Miami has (and always will be) the place where great records are discovered, even in the most difficult of times!
Emblazoned with a host of star-studded tracks from across the globe, our much-anticipated 2021 edition offers a taste of what's to come over the next 12 months boasting upfront cuts from Fonda Rae & DJ Spen, Thommy Davis & Greg Lewis, Roland Clark, Micfreak, Ron Hall, Damond Ramsey, Ronnie Herel, Sahib Muhammad, and many more.
We can't quite connect on the dancefloor just yet… but we can through music!
Enjoy!
DJ Spen & Fonda Rae "Nobody but You"
(Jeager & Rynhart Remix)
Remix Produced, Arranged and Mixed by Kenny Jaeger and Adam Rynhart
Written by DJ Spen & Fonda Rae
Published by FONDOFRAE (ASCAP) & Quantize Music Publishing
Produced by DJ Spen & Michele Chiavarini
All Vocals by Fonda Rae
Keyboards, Bass & Guitars by Michele Chiavarini
Drums, Arrangements, Percussion and Mixdown by DJ Spen

Ron Hall "Talk to God 'Bout It"
(Spen's Sunday Service Re Edit)
Written, Produced, and Arranged by Ron Hall
Published by Quantize Music Publishing
Keyboards and Bass by Irvin Madden

Ronnie Herel Featuring Gary Poole "Thinking About Your Love"
(Original Mix)
Written by Rodney Skipworth & Phil Turner
Published by Memory Lane Music LTD.
Produced and arranged by Ronnie Herel
Keyboards by, Strings, Bass and Drums by Ronnie Herel
Additional Keyboards, Strings, and Solo by Ainsley Johns
Mastered by Toni Economides

Thommy Davis and Greg Lewis "HOT"
(WMC ReWork)
Remix Produced by Thommy Davis and Greg lewis
Written by Thommy Davis
Produced by Thommy Davis & Greg Lewis
Additional Production by DJ Spen
Published by Quantize Music Publishing
Engineered by Greg Lewis @ Blacklist Media, Baltimore, Md.
DJ Spen & Thommy Davis Executive Producers

DJ Niledge feat. Barbara Tucker & DJ Fatman "Really Luv House Music" (DJ Spen & Reelsoul House Anthem Remix)
Written and Produced by DJ Niledge & DJ Fatman
Remixed by DJ Spen & Reelsoul
Vocals by DJ Fatman & Barbara Tucker
Additional Backing Vocals by Barbara Tucker
Published by Quantize Music Publishing
Sean Spencer, Thommy Davis, & Kelly Tribble Spencer Executive Producers

Roland Clark "I Can't Breathe"
(Micfreak's Regroove Mix)
Remix Produced and Arranged by Micfreak
Written, Produced, Arranged and Composed by Roland Clark
Published by RolandClarkSongs (ASCAP)
All Vocals Performed by Roland Clark
Mastering by DJ Spen

Jerome Hicks feat. Richard Burton "Love to The World"
(Damond Ramsey Remix)
Remix Produced & Arranged by Damond Ramsey
Written by Fone Mizell, Rodney Mizell & Larry Mizell
Published by Alruby Music (ASCAP)
Mix Down and Mastering by DJ Spen

Sahib Muhammad "H.O.U.S.E. Music" Part 2
(Original Mix)
Written, Produced, Mixed & Arranged by Sahib Muhammad
Published by Quantize Music Publishing
Additional Mixing and Mastering by DJ Spen

Geoffrey C "Cricket Groove"
(Original Mix)
Written, Produced, Mixed & Arranged by Geoffrey C
Published by Edgemix Music (BMI)
Additional Mixing and Mastering by DJ Spen

Fil Straughan "Everyday"
(Thommy Davis and DJ Spen Remix)
Written, Produced, Mixed & Arranged by Fil Straughan
Published by Quantize Music Publishing
Remix Produced by Thommy Davis and DJ Spen
Additional Mixing and Mastering by DJ Spen

DJ Fella "Let the Horns Blow"
(Greg Lewis Remix)
Remix Produced, Mixed, & Arranged by Greg Lewis
Written and Published by Darrell "DJ Fella" Brown (BMI)
Engineered by Greg Lewis @ Blacklist Media, Baltimore, MD.

Thommy Davis, Dana Weaver & Neal Conway "Make My Body Rock"
(Gianni Junior's Dub Edit)
Written by Cheri Williams and Dwayne "Spen" Richardson
Published by B-Room Publishing / CRK Music ASCAP
Originally Produced by Dwayne "Spen" Richardson, Derek A Jenkins & Cassio Ware for Backroom Productions
Reproduced by Thommy Davis, DJ Spen & Neal Conway
Music by Neal Conway
Mixed and Arrangement by Gianni Junior

SubZero "Conversations"
(Thommy Davis & DJ Spen Re edit)
Produced and Written by SubZero
Additional Production by Thommy Davis
Edited and Mastering by DJ Spen
Published by Quantize Music Publishing

Souldiers of the Cross "Fire"
(DJ Spen Remix)
Written & Published by Shirley Ceasar Williams
Produced by Soulduers of the Cross
Mixed by DJ Spen//