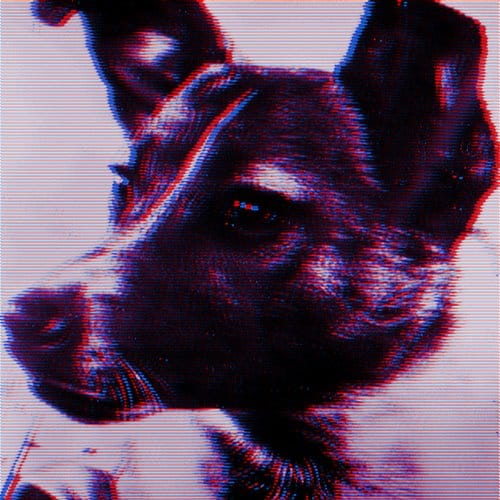 The cover of Panthera Krause's last Riotvan EP already featured a little doggy.
His new piece Laika extends this tradition on a larger scale and is devoted to one of the most famous four-legged friends in history.
Laika was the first dog in space and the most adequate epitome of the spirit that is inherent in Panthera's pieces.
We're speaking of the urge to discover new things which makes him swing off the beaten four-to-the-floor paths time and time again. Of a curiosity which might as well make him look for the suitable sounds somewhere far out. And of an emotional vastness which can change from sparkling euphoria to melodrama in the blink of a dog's eye.
While it is hardly ever questioned that everything which exceeds one track length is termed an EP, Panthera delivers something like a mini album. The opener Through My Mind expands to turn into a dense synth cloud which casts anchor on the dance floor without letting you any other choice. Then, Isla soars the contentual climax, with Laika nearly floating before your inner eye, drifting off into the eternity of space through the porthole of her space capsule, not anticipating her fate, while the track unpacks the flute of longing. Isla Dub down-regulates the interstellar pathos level a bit, focusing on star cold synth rides instead.
If approaches you as a percussively padded jazz monster. Rumor has it that joint sessions with Pantheras niece and drummer Paul Tetzlaff have had an influence on that one. And with Dub?ek – skilful disco coolness, including a cheekily groovy bassline and a drama boost made of a sample turned into note. In sum then, we get five new Panthera Krause tracks together with a skit. On top of that, as always, the artwork was created by the Renaissance man himself, who, next to his own solo trips, is also a part of Marbert Rocel and Karocel. But this presumably, if at all, should only be mentioned as a footnote, shouldn't it?
---
Laika
Panthera Krause
LABEL: Riotvan | RVN007
GENRE: Deep House, Electronic
RELEASED: 2014
MP3 DOWNLOAD SOURCE: WEB
BITRATE: 320kbps / 44100kHz / Stereo
TRACKS: 5
SIZE: 82.15 megs
1. Dubček 6:55
2. If 6:26
3. Isla (Dub Version) 7:05
4. Isla 7:05
5. Through My Mind 6:19
Total Playtime: 33:50 min