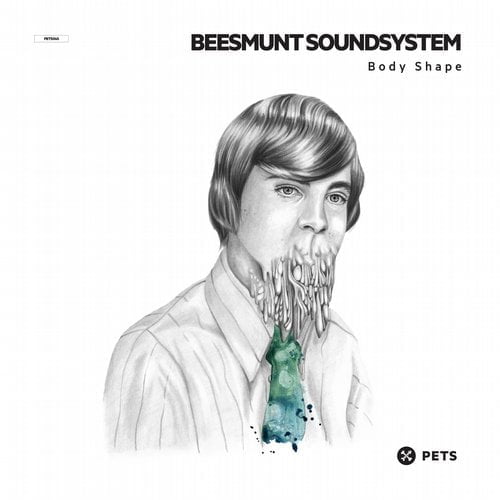 Body Shape EP
Beesmunt Soundsystem
LABEL: Pets | Pets045
GENRE: Techno
RELEASED: 2014
MP3 DOWNLOAD SOURCE: WEB
BITRATE: 320kbps / 44100kHz / Full Stereo
TRACKS: 3
SIZE: 43.25 megs

TRACKLIST
1. Amsterdam 808 (Original Mix) 5:25
2. Body Shape (Original Mix) 6:00
3. Sugar Square (Original Mix) 6:29
Total Playtime: 17:54 min
Release Date: 29.09.2014
Dj Feedback:
Adam Beyer – "This is an excellent new Pets release from Beesmunt!! Body Shape!"
Alan Fitzpatrick – "I am a massive fan of Beesmunt Soundsystem and I LOVE this ep!!"
Huxley – "I absolutely fucking love this release!!!! YES Beesmunt!!"
André Kronert – "Love that raw oldschool feel of the whole release. Body shape and Amsterdam bounce as hell and sugar square is perfect to end up a night. PURE BODY SHAPING AMSTERDAM SUGAR!!"
Patlac – "Body Shape!!! Woooaaah… Super nice release guys!!"
Harry Romero – "Body Shape is just fuckin' retarded . SEND ME THAT KICK!! Lol. Will be playing this for sure."
Richy Ahmed – "This is an absolutely wicked release!! I'll take them all."
&ME – "I am definitely feeling Body Shape but Sugar Square is the one that's gonna work best for me here. Support!"
Ambivalent – "Amsterdam is an incredible track. I love it!! Will be playing."
Tim Paris – "This is a lovely EP. I could really play everything on here. That's some modern techno sound!"
Pedro Winter (Busy P) – "Heavy material! Classy techno from these guys. Support on radio and in my club sets."
Dusky – "This is a strong new release from Beesmunt Soundsystem… Amsterdam getting our love."
Satoshi Tomiie – "Both Body Shape and Amsterdam are equally great. Love that acid stab cutting through the beats. Sugar Square is an amazing compliment to the EP."
Deetron – "Body Shape is sounding HEAVY!! I'll test this one out…"
Walker & Royce – "All three tracks here are winners… I want to blast Sugar Square out my windows while cruising for babes in my hood."
Doorly – "Really really great EP! I love everything these guys have done so far. Amsterdam is the one for me. Can't wait to drop it at 5am in Pacha tonight ☺"
Sinden – "That's a TUFF release! Body Shape is the pick of the bunch I reckon. Definitely dropping that!"
Shadow Child – "Body Shape is a wicked track… I alos love the Sugar Square cut.. Wicked stuff guys!!"
Laurent Garnier – "Oooohhh yessssssss…… I LOOOOOOOVE this release!!"
J.Phlip – "These guys are great! Played the crap out of Close To Me and How I Wish… These will also get hammered."
James Zabiela – "Amsterdam is a wicked record. I love these guys!!"
Joris Voorn – "Body Shape is a rocking record!!! Will support!"
Randomer – "Yeah, these are all BANGERS, but Amsterdam is my favourite."
Ardalan – "YES!!! Oh fuck yes!! I am loving all of these…"
Loco Dice – "Amsterdam is gonna be a nice one for me!! Supporting."
Jackmaster – "I'm liking this Beesmunt Soundsystem release a lot! Especially feeling the Amsterdam track."
Dachshund – "FAT sounds from Beesmunt Soundsystem on Pets!! Supporting!"
Ryan Crosson – "Yeah, I'll be getting down on this Beesmunt Soundsystem release. Sugar Square my favourite here."
Kiki – "Body Shape does indeed have that industrial strength! Possible on my radio show next week, but definitely on my decks!"
Nathan Barato – "Ya, Body Shape and Amsterdam will definitely get run by me over the coming gigs!!"
Till von Sein – "Body Shape sounds like a proper bomb and Sugar Square is gonna be fun to play out and see people lose it."
DJ Nibc – "Super hard to choose just one! All of these are DOPE!! Can't wait to pay them out."
Andy Daniels – (Defected) – "Can't wait to hear these on a big system. Body Shape is my favourite I think."
Beesmunt Soundsystem is swiftly becoming a Dutch institution… Commanding the controls at their own events in Amsterdam's legendary Paradiso by the age of 18, David van der Leeuw and Luigi Vittorio Jansen carved their path as discerning selectors long before they established their own studio.
Emerging into the world of production in 2012, their breakthrough cuts arrived on Soweso Music and were received well across the board… "All Day", in particular, was featured on Breach's critically acclaimed "DJ Kicks" mix. Earlier this year their appearance on Bristol's Just Jack has won them more friends, with "How I Wish" scoring them summer appearances across Europe. Now making their debut on Pets with three immutable examples of pristine production dynamics, their friendlist and schedule is set to develop even more. Get to know…
"Body Shape" speaks with a universal techno tongue; industrial strength beats plough and plunder with clanks and bangs while a dominant detuned synth hammers home an insistent riff that will resonate across the widest realms of house and techno.
"Amsterdam 808" pays homage to their home city's techno legacy and develops these dark motifs further. Naked rim shots batter a hypnotic message into your psyche over the bubbling kick/bass combo. A series of claps builds into a hook that bounces like a tightly coiled spring. Stark, sharp and unyielding, this is a timeless exercise in 808 science that smoulders with a tribal sense of physicality.
Finally we hit "Sugar Square", and it's as sweet as it sounds. Sitting happily between Underground Resistance and Jam & Spoon, it taps into the deepest roots of slinky, emotive electronica. Twinkling with every melodic flourish, glistening with every rhythmic twist; it's the ultimate complement to the darkness that precedes it and showcases the duo's broadest skills and abilities.