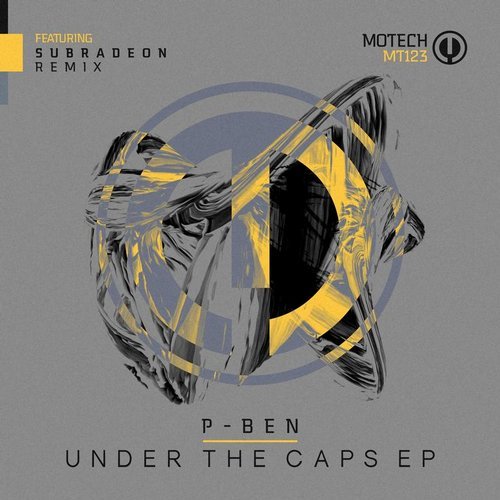 RELEASE: Under the Caps EP
ARTIST(S): P-ben
REMIXERS: Subradeon
LABEL: Motech Records / MT123
GENRE: AIFF, Techno
RELEASED: 2019-03-01
AVAILABLE FORMAT: 320Kbps + AIFF
DOWNLOAD SIZE: (56.05 MB MP3)
TOTAL TRACKS 4
P-ben – Under the Caps (Original Mix) (06:05)

/ A♯maj, 129bpm

P-ben – Under the Caps (Subradeon Remix) (05:51)

/ A♯min, 132bpm

P-ben – Sunny Warm (Original Mix) (06:12)

/ Amaj, 129bpm

P-ben – Players (Original Mix) (06:12)

/ Amin, 129bpm
Total Playtime: 00:24:20 min
"Motech Records' second release of 2019 sees French artist P-Ben make a welcome return to the Motech fold with this powerful four-tracker 'Under the Caps E.P' P-ben has become a essential member of the Motech Family with a number of releases and remixes on Motech, in addition to releases on other great labels such as Josh Wink's 'Ovum' and Detroit techno's founding father, Kevin Saunderson's 'KMS' imprint.

Title track 'Under The Caps', is an atmospheric, driving techno track, with heavy reverb and bass drops guaranteed to shake the soul of the most jaded of ravers. It was in the late 90's that a young P-Ben started listening to 'The Wizard', Jeff Mills groundbreaking brand of minimal techno and the remix of 'Under the Caps', is appropriately reworked by Italian artists Subradeon. With recent releases on the 'Rekids' label, this remix sees a return for the duo to Motech, the very label that released their first E.P back in 2016.

Their remix perfectly encapsulates the Detroit techno energy: pulsing kick, repetitive claps, with delicately layered with filtered synths and groovy organ stabs. Providing the dance floor with a heads down, techno work out at its best. 'Sunny Warm' with its percussive layered drums juxtaposed against a dark sub bass and menacing siren-esque synth will provide the perfect tool across a multitude of genres. Wrapping up the E.P is the big room rave track 'Players' that will guarantee arms in the air across aplenty. This four track EP once again showcases Label boss Franki Juncaj's (aka DJ 3000) ability in signing tracks that continue to positively evolve and enhance the Motech Records portfolio with bold techno productions that will stand the test of time.