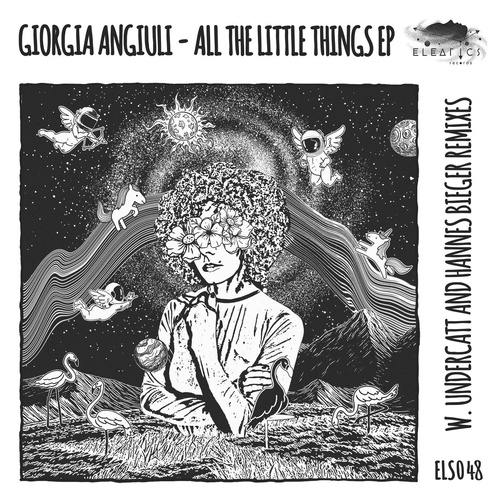 RELEASE: All The Little Things EP
ARTIST(S): Giorgia Angiuli
REMIXERS: Hannes Bieger, Undercatt
LABEL: Eleatics Records | ELS048
GENRE: LOSSLESS, Melodic House & Techno
RELEASED: 2021-07-02
AVAILABLE FORMAT: 1411Kbps/LOSSLESS
DOWNLOAD SIZE: 280.73 MB
TOTAL TRACKS 4
Giorgia Angiuli – All The Little Things (Original Mix) (06:56)

keyGm, bpm125

Giorgia Angiuli – All The Little Things (Undercatt Remix) (06:54)

keyGm, bpm123

Giorgia Angiuli – Vibrations (Original Mix) (06:38)

keyEm, bpm126

Giorgia Angiuli – Vibrations (Hannes Bieger Remix) (07:16)

keyEm, bpm126
Total Playtime: 00:27:44 min
We're always carefully picking music for Eleatics, so we can't hide our emotions when it comes to the EP in this context.
We happily welcome Giorgia Angiuli to our family – a bright and extra talented Italian multi-instrumentalist, musician and live-act.
'All The Little Things' is the first appearance of Giorgia at Eleatics.
Hailing from a small-town girl from Puglia and now residing in Florence, Giorgia has solidly shown how creative and agile skills can take a sound production and a live performance to the next level during the past few years.
2013-2018 years period marks a line of successful label appearances for Giorgia, such as Damian Lazarus' Crosstown Rebels, Kevin Saunderson's legendary techno KMS, Systematic and Oliver Koletzki's Stil Vor Talent, where her debut album 'Pink In A Bubble' was released.
The album was warmly met by critics and worldwide renowned media outlets and the intense touring.
'All The Little Things' confidently takes control over the full spectrum of emotions. Its tight and bouncy bassline becomes a great bone for the warm harmonies and tender Giorgia's vocals, which tells a story: aerial, sensitive and meaningful.
Italian duo Undercatt opens the next chapter of the release with their remix of 'All The Little Things'.
There is no need to introduce Undercatt for the person who is into the electronic world. Diynamic's frequent residents, Undercatt are quickly spreading their signature sound worldwide with help of their high-quality original EPs and top remixes for international artists.
Undercatt remix is dramatic and balanced properly, accentuating Giorgia's intriguing vocals and harmonies with a great approach, which drowns a listener to the ecstatic edge.
Giorgia always explores her world via music, 'Vibrations' is not the exception. It is meaningful and sensuous, though dynamic at the same time.
German artist Hannes Bieger is a well-known professional when it comes to sound technique, but we are so happy to invite Hannes on a remix duty of 'Vibrations'. His stompy remix makes a certain floor accent, which perfectly sums up this EP story to the end.