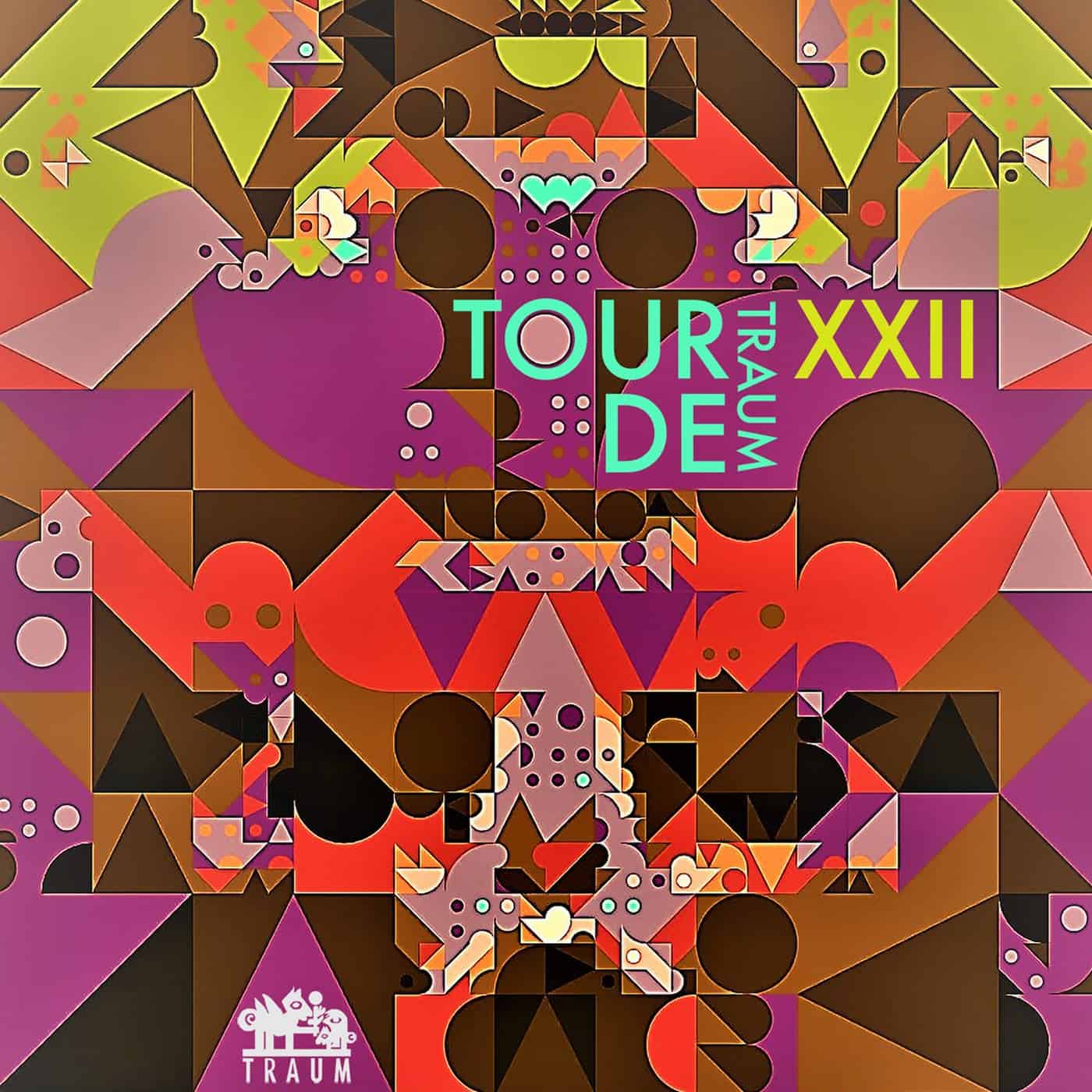 RELEASE: Tour De Traum XXII
ARTIST(S): 7IAN7, Alvaro Pastore, ANDATA, Anerøb, Ascet, Bar.ba, Be High, Bukadddor & Fishbeck, Call of Beauty, Chris-T & Matu, Daniel Eyrich, Davidovitch, Deep In Calm, End Of Twins, Forest People, Frasseck & Freitag, Garden State, Gregor Klamra, Guy Gordon, Himy Vana, Jaksa Pavicevic, James Harcourt, Luden, Maor Azulay, Marcovits, Max Kuffel, MniAlexander, Olaf Stuut, Pak Sota, Parallel Preservation, Parra for Cuva, PatriceVanDenBerg, Peter F. Spieß, Raphael Danilo, RAUB, Rei, Rob Clouth, Ron Flatter, Sabas, Sandburgen, Schiuza, Sebastian Fleischer, Sonimun, Tom Samit, UCCELLI, Ümit Han, Vanity In Mind, We Need Cracks, Ynthenn
REMIXERS: Aparde, Max Cooper
LABEL: Traum | TRAUMCDDIGITAL49
GENRE: LOSSLESS, House
RELEASED: 2021-12-03
AVAILABLE FORMAT: 814Kbps/LOSSLESS
DOWNLOAD SIZE: 2.01 GB
TOTAL TRACKS 49
Luden – Sweet Dream (03:05)

key, bpm117

Davidovitch – Visionesque (06:56)

key, bpm122

Anerøb – Innerversion (06:32)

key, bpm120

ANDATA – Unsterblich (06:55)

key, bpm122

End Of Twins – Perfect Sky (07:58)

key, bpm122

Forest People – A Curtain For The Paradise Behind (07:06)

key, bpm128

James Harcourt – Pruina (07:03)

key, bpm123

Garden State – Evenor (06:57)

key, bpm121

Rob Clouth – Cloud Complex (Max Cooper Remix) (07:06)

key, bpm124

7IAN7 – Breach 2077 (04:43)

key, bpm128

Guy Gordon – Exodus (07:34)

key, bpm123

Deep In Calm – Dream Hacker (05:51)

key, bpm141

Frasseck & Freitag – Trip De France (06:34)

key, bpm123

Sandburgen – Zentrifuge In Ah Moll (06:46)

key, bpm150

Sebastian Fleischer – Driving Arps (09:38)

key, bpm123

Bar.ba – Lullaby (06:53)

key, bpm123

Chris-T & Matu – Saturn (06:44)

key, bpm120

Jaksa Pavicevic – Kukutebee (07:38)

key, bpm121

Sonimun – Friendly Alterations (06:08)

key, bpm120

PatriceVanDenBerg – Floating High (09:21)

key, bpm121

Parra for Cuva – Veiled In Blue (05:05)

key, bpm125

MniAlexander – Break Of Day (07:22)

key, bpm98

UCCELLI – Front Door (09:35)

key, bpm123

We Need Cracks – Signals (08:52)

key, bpm124

Be High – Acid Trip (07:04)

key, bpm123

Ynthenn – Wednesday (06:15)

key, bpm102

Daniel Eyrich – Ein Blauer Tag Am Meer (08:09)

key, bpm122

Call of Beauty – Signal (07:14)

key, bpm128

Maor Azulay – We Need Some (04:00)

key, bpm99

Max Kuffel – Flimmerscheibe (07:19)

key, bpm123

Marcovits – Pendulum (06:39)

key, bpm124

Ascet – Core (06:25)

key, bpm125

Olaf Stuut – Spirograph (Aparde Remix) (08:49)

key, bpm117

Raphael Danilo – Little Bean (03:44)

key, bpm93

Ümit Han – Aber Meine Liebe Nicht (09:51)

key, bpm138

Gregor Klamra – Pockets (05:11)

key, bpm125

Ron Flatter – Shelby (08:59)

key, bpm122

Himy Vana – Thunder Rush (06:52)

key, bpm124

Parallel Preservation – The Last Stand (09:23)

key, bpm124

Alvaro Pastore – Booming Colours (08:06)

key, bpm126

RAUB – Dreaming Bee Free (05:17)

key, bpm122

Vanity In Mind – I Will Show You Eternity (08:01)

key, bpm121

Peter F. Spieß – Particles Of Interest (07:43)

key, bpm125

Pak Sota – Violets (07:12)

key, bpm125

Bukadddor & Fishbeck – Mantikor (09:53)

key, bpm123

Sabas – Comparison (08:00)

key, bpm94

Schiuza – Sweet Is The Night (05:43)

key, bpm123

Tom Samit – Transcendence (06:09)

key, bpm141

Rei – Vaguely (07:45)

key, bpm159
Total Playtime: 05:48:05 min
Traum looks forward to the next chapter in its illustrious history, by continuing to serve up the freshest producers alongside cherished household names.
Tour De Traum XXII is about honoring the origins but is even more about embracing the now.
Over a period of 6 months Riley Reinhold has handpicked artists from all over the world among them a 14 year old musician with the name of Ynthenn.
Expect nothing less than the high quality the Tour De Traum series is known for.
Luden – Sweet DreamLudens track "Sweet Dream" strokes you gently with its loungy vocal house that melts like sugar in a hurricane.
The Japanese artist has been able to build up a following for his unique lightness in sound on Spotify. But remains still a voice of the underground writing music for the people who know.Here we feature a brand new unreleased track of his that is peaceful and poetic and imaginative. His vocals add a romantic side.
Davidovitch – Visionesque
Davidovitch returns to Tour De Traum again with his track "Visionesque"which shows a nice blend of lush and organic sounds on a funkyprogrammed beat. All seems to be played by hand creating that hypnotic state that makes this track so special.
Anerøb – Innerversion
Anerøb has been part of the German techno scene since the early days when he started producing music at the age of 17. "Innerversion" is his first attempt to release on a label and we are happy he picked us. His track shows how he has inhaled the essence of electronic dance music and converted it in his own way. "Innerversion" is a dramatic tale that builds up a strong connection with the dancer. The balance of information and the spiritual side work hand in hand to create a fantastic experience. File under melodic techno!
ANDATA – Unsterblich
The Hamburg based duo have written quite an anthem with their track "Unsterblich". The track has a high rave quality that can feed any hungry collective spirit out there. Expect to hear that track on dance-floors!
End Of Twins – Perfect Sky
End Of Twins have just released "Lovers" with Dynamic and release "Perfect Sky" her with us. The duo has written a fantastic vocal track expressing a modern indie feel where happiness and sadness constantly changes position. We expect them to climb the ladder in the music world.
Forest People – A Curtain For The Paradise Behind
"A Curtain For The Paradise Behind" by Forest People is a bass heavy melodic techno track with mighty synth chords shaping a colorful and mighty musical scenario that triggers peaks of drama feeding your own imagination in a skillful way.
James Harcourt – Pruina
James Harcourt has already released two EPs with us. "Pruina" is an unreleased track that puts things in a gentle way as the progression slowly develops step by step to build up a tickling tension. Hypnotizing and deep!
Garden State – Evenor
The duo from Hamburg is on its way climbing up the popularity ladder. We are happy to contribute to feature them at an early stage on Traum with their track "Evenor".The melodic techno & house genre is their home. The composition of sound and the flow at which stages which sound is introduced is breathtaking. Garden State hit the right buttons of contemporary melodic dance music which is emotional and shows great progression. "Evenor" is a remarkable voyage and last but not least an absorbing trip .Be sure to hear more from them in the future.
Rob Clouth – Cloud Complex (Max Cooper Remix)
We feature here the track "Cloud Complex" by Welsh artist Rob Clouth in a Max Copper remix which we released back in 2012 .Rob Clouth is the mastermind behind Vaetxh, Dr:kid and has recently released on Max Coopers own imprint.
7IAN7 – Breach 2077
"Breach 2077" has an explosive intro that keeps assembling energy from different introspective sources and when the percussion enters you will know the dance-floor will be entered.This is powerful melodic techno with a lot of sophistication and passion. How all these elements have been woven together is just pure magicians work.A huge track for the mind and the feet! A track you want to play to people!
Guy Gordon – Exodus
With "Exodus" upcoming artist Guy Gordon has written a track that is capable of creating a unique deep techno vibe with a simplistic set up. The production is very nice and on top the imagination in "Exodus" will attract a lot of dancers. Introspective energy makes this a great tune in the field of melodic techno.
Deep In Calm – Dream Hacker
Deep In Calm returns to Traum after being played 700 000 times with a previous Tour De Traum track and puts forward his newest invention called "Dream Hacker" a deep imaginative downbeat house track with a lot of moody chill-out quality that gently lingers on in your mind.
Frasseck & Freitag – Trip De France
Frasseck & Freitag return to Tour De Traum with their brand new track "Trip De France". It brings different styles together in a very skillful way and their funky groove is nothing less than addictive.
Sandburgen – Zentrifuge In Ah Moll
Sandburgen returns to Tour De Traum with his deep soulful voyage " Zentrifuge In Ah Moll". Balearic atmospheric house in the footsteps of Traum artists like Olaf Stuut.
Sebastian Fleischer – Driving Arps
Sebastian Fleischer supplies us with his new track "Driving Arps" that starts in a minimalist fashion but then dives deep into lush synth sounds to create a private and intimate form of house music.
Bar.ba – Lullaby
Bar.ba has recently released on Traum and this new unreleased track "Lullaby" connects nicely to that style of his. As the title conveys it is very comforting and lovely. But don't think this track does not have some dance appeal. It does work very well on an intimatedance floor.
Chris-t & Matu – Saturn
The duo has written a spiritual melodic techno tune quite organic and hypnotic. The organ chords provide the track with a strong deep feeling which fits very well to the name of the title "Saturn".
Jaksa Pavicevic – Kukutebee
Jaksa Pavicevic introduces with "Kukutebee" a well crafted melodic & hypnotic piece of music that is extremely insightful and observant. The passionate way he tells tells the story is incredible.
Sonimun – Friendly Alterations
The Cologne producer Sonimun also know through his other project name Numinos returns to Tour De Traum with "Friendly Alterations". Defying the existing genres this fabulous piece of music can be anything from nu disco to electronica. The voyage and the endless twists are fantastic and nothing you can retell in words. Oh… we just heard a 303 sneaking in as well. Please listen.
PatriceVanDenBerg – Floating
HighPatriceVanDenBerg rejoins us again with a very relaxed chilled out dub techno track called "Floating High". Feel enchanted by cool reverbs and nice spacious passages!
Parra for Cuva – Veiled In Blue
We feature here a classic on Traum by Parra for Cuva from his EP which we released in 2014. The same titled track "Veiled In Blue" is an introspective and self-examining, a piece of composed music which could describe a sensual situation that takes place in a well protected and sheltered world. Maybe a tiny room in the attic or a groomed world where every single element is chosen carefully. Parra for Cuva has written here a charming tale, picturesque and captivating.
mniAlexander – Break Of Day
mniAlexander has written with "Break Of Day" a melodic techno track with a long epic build up. An intro that paves the path for the beats to come to create quite a journey.
Uccelli – Front Door
Uccelli contributes his new track "Front Door". A melodic track with a lot of understatement channeling the tension gently through the composition resulting in a hypnotic state.
We Need Cracks – Signals
We feature here on of the great tracks of our past by the French duo We Need Cracks who have split up some years ago. "Signals" is one of their biggest hits with over 79 000
Be High – Acid Trip
Be Highs track "Acid Trip" creates a good vibe and is something you can appreciate because of the immortal essential feelings it evokes. So when the 303 starts cooing at halftime it creates a comfort zone you wont want to miss.
Ynthenn – Wednesday
Ynthenn is a 14 year old (!) musician who has written the track "Wednesday".
This soulful piece of electronica has a fantastic compositional progression breathing through a chain compressed sound and opening up for other fine sounds and moods to come. This track virtually winds its way through different stages to skillfully connect to its loose ends.
Daniel Eyrich – Ein Blauer Tag Am Meer
Daniel Eyrich presents with "Ein Blauer Tag Am Meer" a piece of deep house music with a very strong private and introvert note.
Call Of Beauty – Signal
"Signal" is a perfect wake up call, very energetic and revitalizing. Minimalist melodic techno, simplistic and to the point.
Maor Azulay – We Need Some
Maor Azulay returns to Tour De Traum with a nice melancholic downbeat track called "We Need Some". The track manifests a longing feeling as well as angriness.
Max Kuffel – Flimmerscheibe
Max Kuffel presents with "Flimmerscheibe" a deep techno track that has the haunting cinematic quality comparable to the soundtrack of Manchesters crime series "Scott & Bailey"
Marcovits – Pendulum
Marcovits returns with "Pendulum" to Tour De Traum. His newest track is a melodramatic and cinematic track and connects to the cool tracks he has released for us in the past.
Ascet – Core
The mood of the track by Ascet fits very well to the chosen track title "Core". This is mystical techno music with melodies that play hide and seek with you behind icebergs and glaciers. Sometimes sinister sometimes showing a glimpse of hope… this is cinematic techno on ahigh level.
Olaf Stuut – Spirograph (Aparde Remix)
We include here a classic on Traum by Olaf Stuut we released in 2015. Olaf Stuut is a versatile person playing multiple instruments and who draws inspiration from a wide spectrum of genres like jazz, funk and rock music.
Berlins Aparde remixed "Spirograph" and has removed all funky irritation to replace it with a soothing almost ambient feel that moves beat wise on a cats paw, cautiously but with continuity towards a place that we have never seen and which he will open up for a split second. The longer the track runs the more addictive it gets! This is slo-mo sexiness at its best.
Raphael Danilo – Little Bean
Raphael Danilo has written with "Little Bean" a bloomy epic electronic soundtrack. Very colorful and full on!
Ümit Han – Aber Meine Liebe Nicht
Ümit Han contributes with "Aber Meine Liebe Nicht" another ambient-electronic tune showing classy German roots ranging from Kraftwerk to Krautrock.The track is based on poem by Friedrich Schillers "Hektors Abschied" and is created solemnly with anylog machines. It carries a farewell mood in an extensive version which drops into a dramatic final chapter.
Gregor Klamra – Pockets
Gregor Klamra puts forward his new track "Pockets" a track that switches from a minimalist "ghostly" feeling to a more uplifting melodic techno style showing a lot of skill and diversity in the way he changes the moods.
Ron Flatter – Shelby
Following "Mantequilla" Ron Flatter wrote a superb euphoric and joyous anthem of a song again with "Shelby" in 2016. "Shelby" can carry you on hands but can also provide shelter.Ron shows a hell of a lot of knowledge for club music that can unite people. The collective spirit and positiveness are the key and the heart of this track and we can see "Shelby" working wonders on open airs and clubs around the world.
Himy Vana – Thunder Rush
French producer Himy Vana combines a powerhouse production with musicality he expresses though soulful played piano and synths. Himy Vana manages to shape an intensity which is hard to escape keeping the energy level up till the very end.
Parallel Preservation – The Last Stand
The American artist Parallel Preservation releases with "The Last Stand" the second track on Tour De Traum. The track blends dance music with an epic soundtrack as this is a deep interest of his.
Alvaro Pastore – Booming Colours
Alvaro Pastores "Booming Colours" is a fantastic track that carries a note of the darker side of the UKs 80ies new wave… but don' 't misunderstand us, it is still melodic techno but with all the liveliness and composition skills that indie music is known for.
RAUB – Dreaming Bee Free
RAUB returns to Tour De Traum with this fantastic downbeat/electronica track "Dreaming Bee Free". A unique track that follows the footsteps of artists such as early Wagon Christ aka Luke Vibert. Breathtaking soundscapes and a cool groove!
Vanity In Mind – I Will Show You Eternity
The Swedish producer Vanity In Mind has been contributing to Tour De Traum for a while. This is his newest track called: "I Will Show You Eternity". Expressing vastness and images of eternal quality in combination with a certain mysticism you can virtually feel a new age coming.
Peter F. Spieß – Particles Of Interest
Peter F. Spieß "Particles Of Interest" is the result of a project in which the whole track is only played by machines with no computer. So the track is a one-take. Enjoy the raw vintage Detroit techno style with 303
!Pak Sota – Violets
Pak Sota returns to Tour De Traum with his atmospheric dub techno track "Violets". The comforting vibe has a nice quality.
Bukaddor & Fishbeck – Mantikor
We include here "Mantikor" a classic by Bukaddor & Fishbeck released with us in 2008 which we think is designed to withstand the test of time. The track expresses a feeling as if one was dancing on a volcano.
Sabas – Comparison
The Georgian artist releases under the name of Sabas hisComparison" with us. Fantastic mood changes and dynamic progression make it irresistible.
Schiuza – Sweet Is The Night
Schiuza has written with "Sweet Is The Night" a transcendental groover with small melodies to wriggle around keeping a constant flow of sound.
Tom Samit – Transcendence
Tom Samits "Transcendence" is good natured joyous Balearic tune with lots of rock candy sweetness in its melodies.
Rei – Vaguely
The Japanese artist Rei writes abstract soundscapes. His track "Vaguely" expresses this electro acoustic quality in depth including a steady beat.//