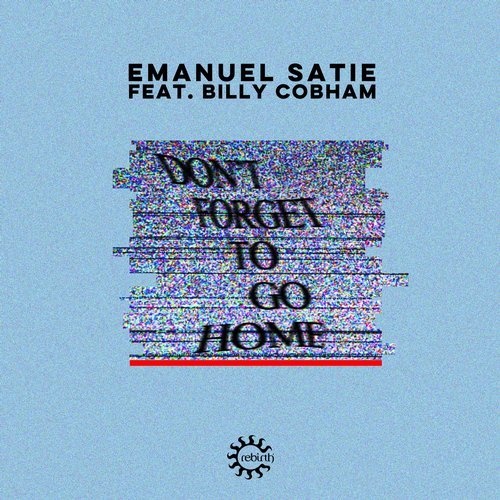 RELEASE: Don't Forget To Go Home (Remixes)
ARTIST(S): Emanuel Satie, Billy Cobham
REMIXERS: Black Loops, Shield
LABEL: Rebirth, REB114R
GENRE: AIFF, Deep House
RELEASED: 2018-09-24
AVAILABLE FORMAT: 320Kbps (+ AIFF)
DOWNLOAD SIZE: (48.90 MB MP3)
TOTAL TRACKS 3
Emanuel Satie, Billy Cobham – Don't Forget To Go Home (Shield Re-Edit) (07:08)

/ Am, 122bpm

Emanuel Satie, Billy Cobham – Don't Forget To Go Home (Original Dub Mix) (07:10)

/ Em, 125bpm

Emanuel Satie, Billy Cobham – Don't Forget To Go Home (Black Loops Remix) (06:49)

/ Am, 126bpm
Total Playtime: 00:21:07 min
Surely one of the biggest underground tracks of the summer in Ibiza and beyond, 'Don't Forget To Go Home' by Emanuel Satie gets some remix treatment. The first part includes the Original Dub Version by Emanuel himself, a re-edit from Rebirth's boss Shield and a remix from Black Loops.
A former Pete Tong's Essential New Tune on BBC Radio 1, and supported by names as diverse as Sven Väth, Kolsch, Luciano, Dj Koze, Lee Burridge, Guy Gerber, Claptone, François Kevorkian, and even Tïesto….'Don't Forget To Go Home' is a future classic, mixing jazz with deep house !
The track is a collaboration with the internationally renowned drumming virtuoso, percussionist, composer Billy Cobham and Nicolosi Production. The Jazz fusion pioneer has dedicated his whole life to musical exploration and creative expression, working with artists like Miles Davis, Horace Silver and George Benson.
The label boss Shield loved the track so much and decided to give the track his personal touch. The edit features a new afro rhythm pattern played by Carlos Santana's percussionist Idrissa Diop, psychedelic effects created with the EMS Synthi Aks and an additional rhodes part. The result is fantastic. Emanuel delivers an exceptional stripped out dubby version, a bass-rolling peak-time house number for the dancefloor, while Black Loops, the italian house duo based in Berlin, strip the musical theme back for a deeper version with a funky disco vibe.