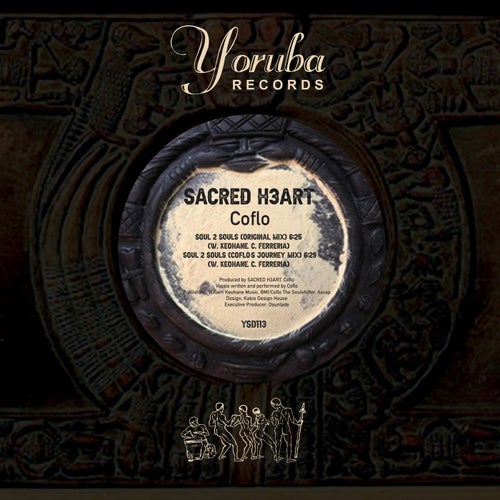 RELEASE: Soul 2 Souls
ARTIST(S): Coflo, SACRED H3ART
REMIXERS: Coflo
LABEL: Yoruba Records | YSD113D
GENRE: LOSSLESS, Afro House
RELEASED: 2021-03-05
AVAILABLE FORMAT: 929Kbps/FLAC
DOWNLOAD SIZE: 84.91 MB
TOTAL TRACKS 2
Coflo, SACRED H3ART – Soul 2 Souls (06:30)

key, bpm125

Coflo, SACRED H3ART – Soul 2 Souls (Coflo's Journey Mix) (06:30)

key, bpm125
Total Playtime: 00:13:00 min
In the midst of the dark cloud that loomed all through last year, creatives the world over gave us light when we needed it the most. Yoruba Records was no exception to this. In fact, 2020 ended up being one of our most prolific years of released music. Carrying on that energy and keeping our foot on the gas, Yoruba Records proudly sets things off for 2021 with a brand new single by SACRED H3ART & Coflo.
SACRED H3ART is the new alias of William Keohane, one half of DJ/Production duos Ancient Deep and R.E.A.D. Music. The Dallas, Texas resident debuted his first project under this new moniker for label favourite Carlos Mena and his imprint, Ocha Records. After going through emergency heart surgery, Keohane had no choice but to recalibrate, rebirthing himself creatively as SACRED H3ART.
Joining him is California bay area native Cody Ferreira, better known in the house world as Coflo. This is Coflo's second project for the label, previously being one of the selected producers to participate on the po-lar-i-ty remix EP, 're-mixes pt.1'.
'Soul 2 Souls' is cosmic, bare-bones afro-tech house. Coflo's futuristic ancestral vocals sit perfectly with SACRED H3ART's deeply-rooted, slow-building arrangement. On the flip, Coflo's Journey Mix adds a few elements to the main theme, some percussive fills for spiritual depth and celestial organ bits throughout.
This music is fitting for the times. This is not a dance number for the masses, not even for small groups. This is for one-on-one dancing, soul 2 soul…