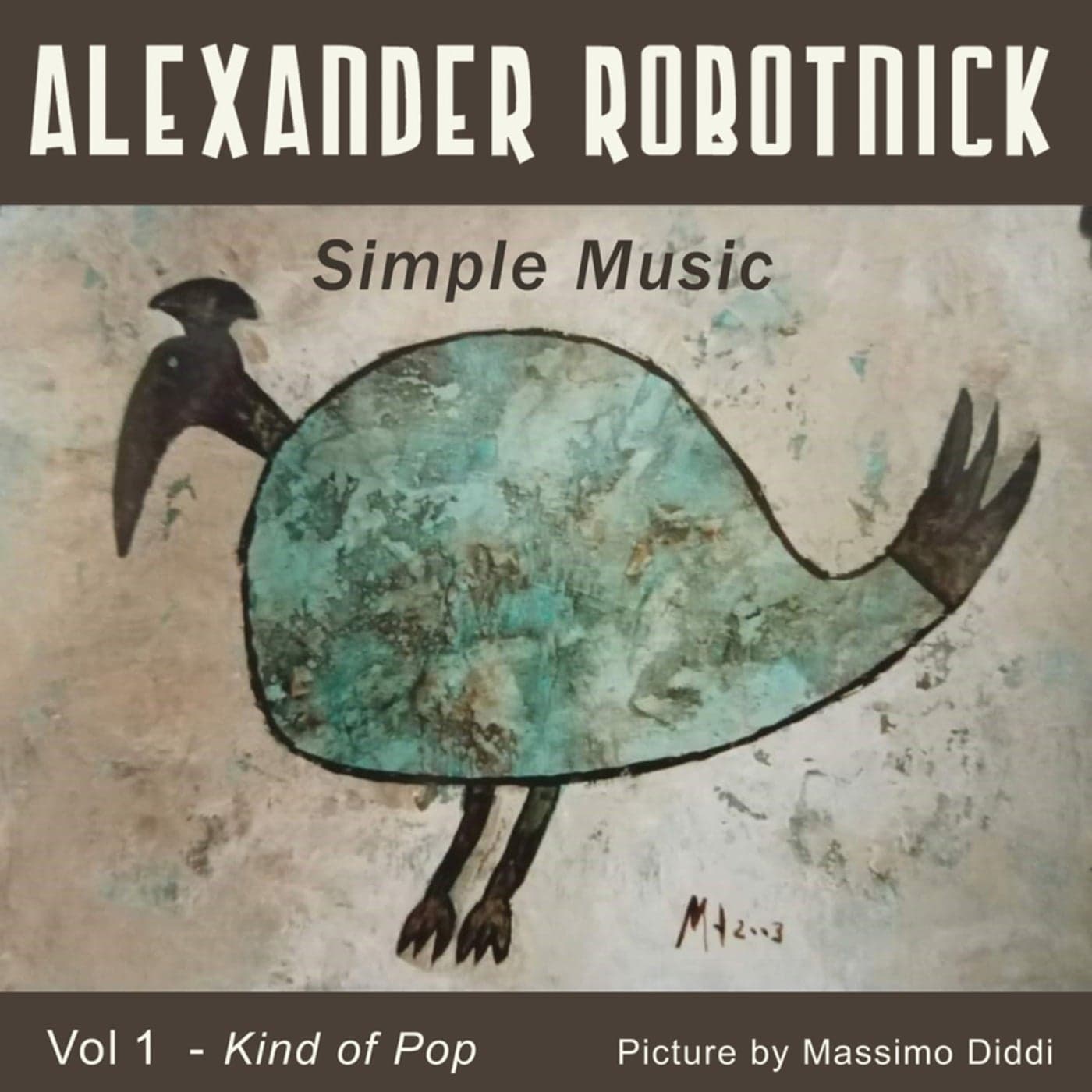 RELEASE: Simple Music
ARTIST(S): Alexander Robotnick
REMIXERS:
LABEL: Hot Elephant Music | HEM2203
GENRE: AIFF, Nu Disco / Disco
RELEASED: 2022-12-02
AVAILABLE FORMAT: 872Kbps/AIFF
DOWNLOAD SIZE: 212.88 MB
TOTAL TRACKS 8
Alexander Robotnick – Babel (03:45)

key, bpm122

Alexander Robotnick – It Is So Easy (05:02)

key, bpm130

Alexander Robotnick – Why (05:23)

key, bpm120

Alexander Robotnick – Underpass (04:08)

key, bpm114

Alexander Robotnick – Virtual Empathy (04:58)

key, bpm90

Alexander Robotnick – I Want to Know (04:09)

key, bpm121

Alexander Robotnick – Intro Robo (03:54)

key, bpm160

Alexander Robotnick – Simple Music (04:47)

key, bpm123
Total Playtime: 00:36:06 min
This is A.R.s new project that will produce 4 (digital) albums. Kind of Pop, the first title in the series , to be released on November 15, contains 8 tracks , 7 of which featuring the artists vocals. Vol2 Kind of Disco, VOL3 Kind of Italo and VOL4 Kind of Techno will follow.
The concept of simple music fits any style of club music. It is born out of the need of combining traditional music parts , chords, melodies and songs (which can be simple indeed) to create variations and keep up the interest in listening. In todays dance music such interest is usually kept alive or semi-alive by partly rhythmic timbre variations and by introducing some riff while the music substance core goes on and on always identical from the start till the end of the track.
With regard to this point, A. R. writes:
I am not criticizing this way of proceeding and I totally respect the effort made to create a short piece of music that is powerful enough to go on without ever changing for 4 minutes. The problem is that riffs and grooves are not endless and when you are my age you may have heard them already. I understand this happens to DJs and not so much to the audience. But its a fact that I am having more and more trouble to find interesting tracks and cause the risk is ending up with a rather flat atmosphere. So I felt the need of producing simple music made of chords, phrases , verses and refrains that may generate simple and genuine feelings in a music genre that otherwise may risk to become more and more boring.
TRACKS:
Babel – Is a song about the impossibility to understand one another even when we talk the same language and share the same culture.
It Is So Easy – here a very smug character in the refrain reveals instead his rather critical situation in the verses. A bit silly.
Why On an electro-disco base the character complains about his lovers inconsistency.
Underpass It's a dark vision of a walk along an underpass. It's made with original Robotnick's sound from the early 80s
Virtual Empathy – It s about the empathic feelings induced by mainstream TV to manipulate mass consensus.
In I Want To Know Robotnick describes his dreams and wonders about their meaning.
Intro-Robo it's the only instrumental track in the album. Very simple music.
Simple Music – Is the track chosen as the album title.
LABEL: HOT ELEPHANT MUSIC Release due in November 2022//